This Asian rice bowl with brown rice, crunchy edamame beans, shiitake mushrooms, strips of nori, and a delicious Asian style dressing makes an easy, healthy, plant-based lunch or dinner.
This nourishing Vegan rice bowl is packed full of flavour and is super satisfying!
I love all of the different textures in this rice bowl, the edamame beans, radishes, cashew nuts, and sunflower seeds give this bowl lots of good crunch. The shiitake mushrooms and nori seaweed have a unique texture that pairs nicely with the brown rice. Spring onions and fresh chili give this bowl extra flavour!
The sesame soy (or tamari dressing) tops this rice bowl off perfectly!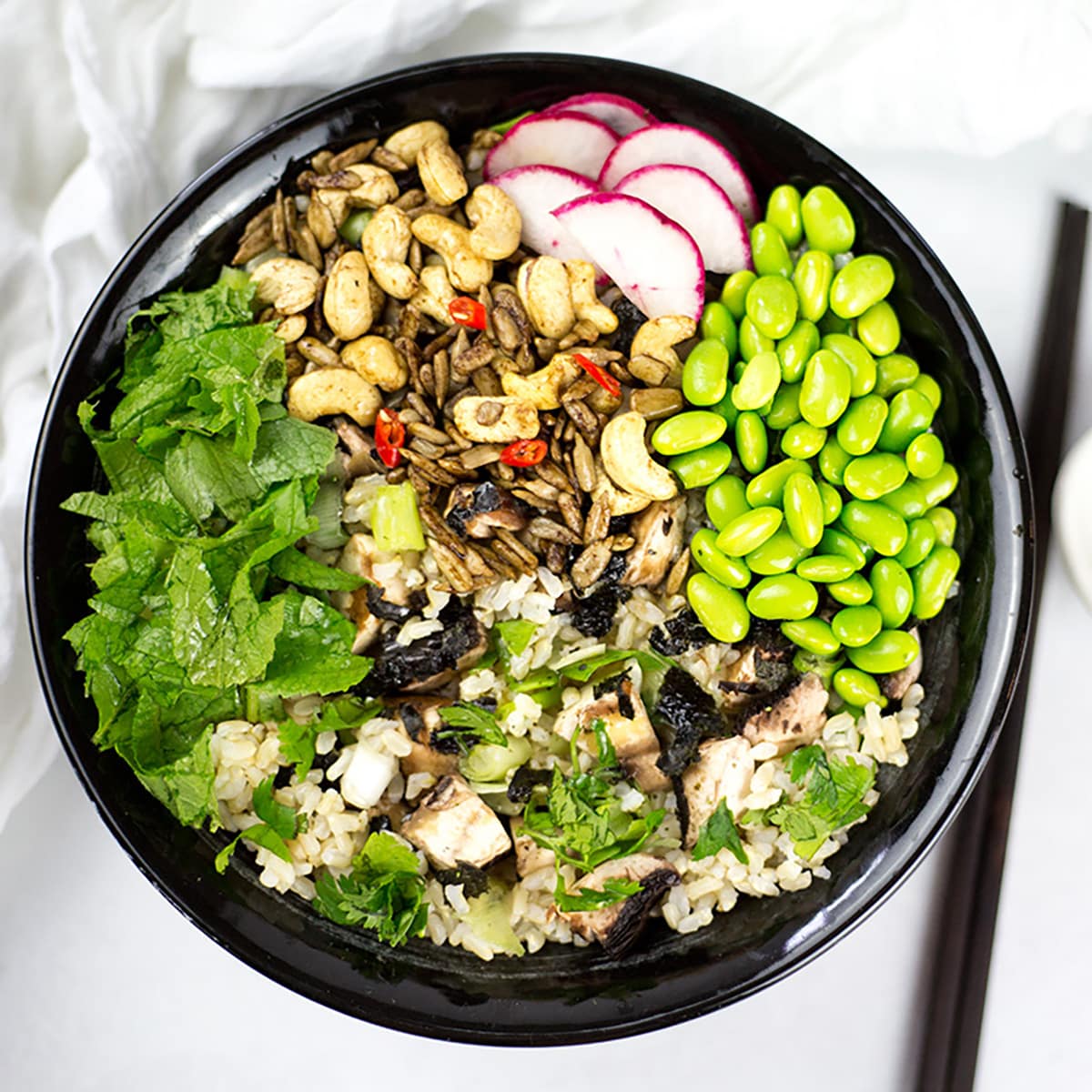 This healthy rice bowl ticks all the boxes for complex carbohydrates, protein, and fat. I can assure you this recipe will leave you feeling full and satisfied!
Key Ingredients:
Rice - For this rice bowl, brown rice is my personal preference to use. I prefer its nuttier texture and its lower G.I and fibre means you stay full for longer.
Edamame beans - I used frozen edamame beans that had already been shelled and cooked before they were flash frozen.
Mushrooms - I used fresh shiitake mushrooms in this rice bowl. These can usually be found in an Asian grocery store or in the International Asian section of the supermarket.
Fresh radishes - I love the extra flavour and texture the radishes bring to this rice bowl, however, if they are not in season for you this bowl will still work without.
Cashew Nuts - I used raw cashew nuts, cashew nuts go well with the Asian style flavours in this rice bowl however you could use other nuts if you prefer.
Nori Seaweed Sheets - This is so easy to find in most supermarkets and helps give this dish extra flavour. You could also use wakame seaweed.
Fresh Chili - Optional but gives this rice bowl an extra kick!
Rice Bowl Dressing
Sesame oil - This brings the whole dish together nicely and is my preferred oil to use.
Soy sauce or Tamari - Gives the dressing extra depth and umami, if you are strictly gluten-free then use Tamari or gluten-free soy sauce.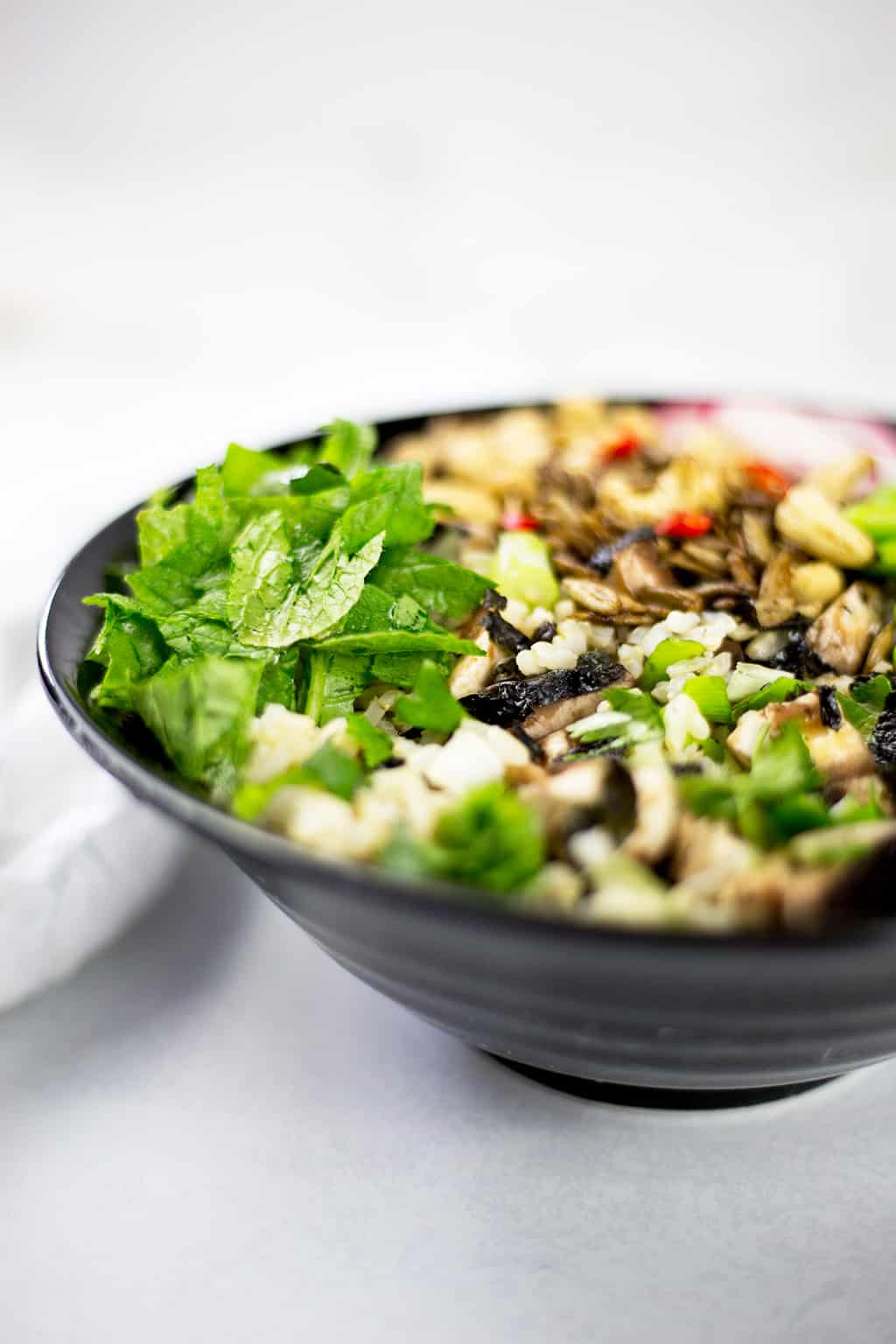 Recipe Swaps and Variations
White rice or quinoa can be used in place of brown rice.
The fresh greens in this rice bowl are radish leaves, I like their slightly bitter taste and they work well with the flavours in this dish. It also means less waste which is always good! However, if you don't like radish leaves then chopped cabbage, bok choy, kale, spinach or rocket/arugula leaves can work well.
If you can't find shiitake mushrooms another "meatier" type of mushroom such as portabello works best or your standard button mushrooms can be used too.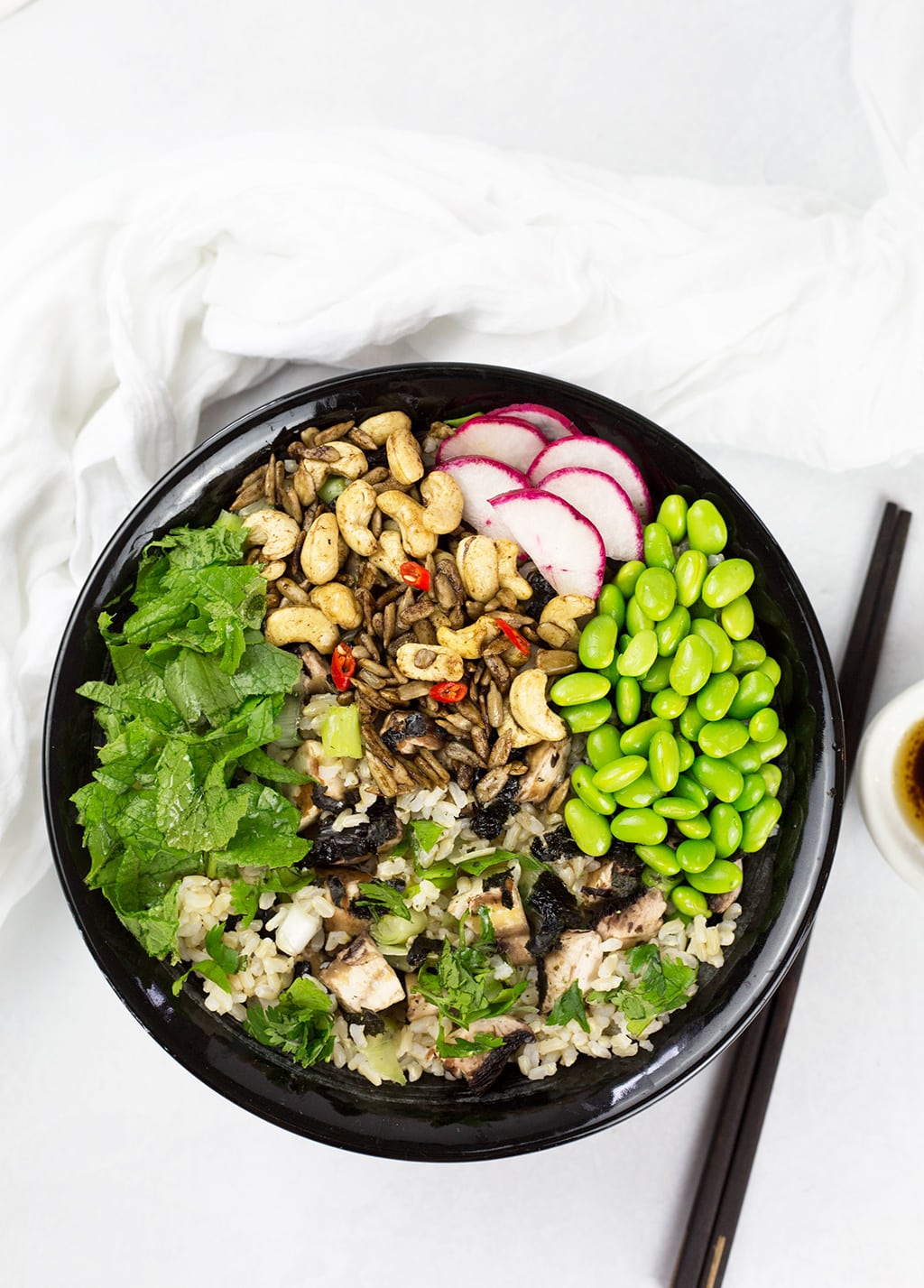 Recipe Tips
This rice bowl can be thrown together very quickly! Especially if you already have leftover cooked rice on hand. Of course does not need to be served buddha bowl style like the photos you could make a big batch, stir all of the ingredients through and serve to the whole family.
If my little boy is eating this I will leave out the chili and radishes and keep them to the side. Occasionally he has been known to enjoy a radish so it really depends on the day!
Can this rice bowl be frozen?
Yes, it can but I would remove the radishes and radish leaves as they will go soggy after being frozen. The best way to serve this dish after being frozen is to lightly fry all of the ingredients in some oil and you will get a flavoursome fried rice.
Other recipes you might like:
Peanut-Miso Tempeh Salad Bowl with Cashew Nuts
Spiced Chickpea Buddha Bowl with Cumin Cashew Dressing
I hope you enjoy this Asian Rice Bowl recipe! Please let me know how you got on in the comments below, I love hearing from you!
For more tasty recipes and to see what I've been getting up to you can follow me on Facebook, Instagram, Pinterest or Twitter.
Hope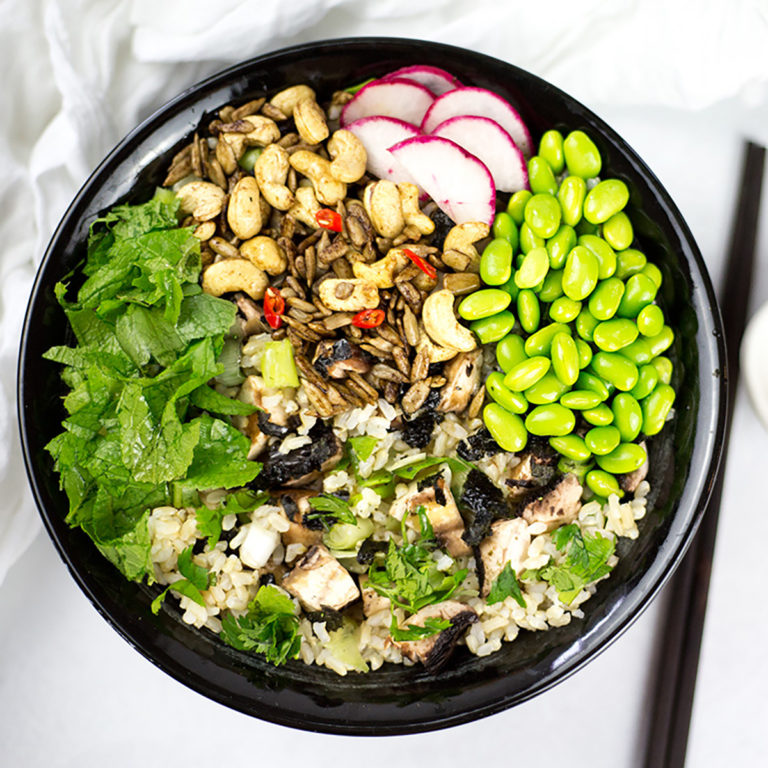 Asian Rice Bowl with Sesame Soy Dressing
This healthy Asian rice bowl with edamame beans, shiitake mushrooms and nori is full of different textures and flavours that make a delicious lunch or dinner. Vegan, Gluten-Free, Dairy-Free.
Ingredients
Rice Bowl
1 cup brown rice
1 cup edamame beans, shelled and frozen
1 cup cashew nuts, raw
½ cup sunflower seeds
1 cup mushrooms
¾ cup radish leaves or other greens
2 spring onions
2 radishes
4 sheets nori seaweed sheets
1 Tbs coconut oil
½ tablespoon tamari or soy sauce
Rice Bowl Dressing
3 tablespoon sesame oil
1 tablespoon tamari or soy sauce
Topping
1 birds eye chili, optional
Instructions
Bring a medium pot of water to the boil. Rinse rice under running water. Add the rice to the boiling water, reduce heat and simmer for 30 minutes. Once cooked, rinse under cool water and drain.
Blanch the pre-cooked frozen edamame beans in boiling water for 2-3 minutes, rinse under cold water. If the beans you are using have not been pre-cooked or are raw then cook according to instructions on the packet.
In a small frying pan or skillet add 1 tablespoon of oil and ½ tablespoon of tamari or soy sauce. Add the cashew nuts and sunflower seeds and stir for 2-3 minutes on medium heat until they are lightly golden. Remove and set aside on a paper towel to drain.
Peel and chop the mushrooms and chop the spring onion. Stir these through the brown rice. Roughly tear the nori seaweed into strips and stir through the rice.
Assemble your rice bowls, add the rice in first with the mushrooms, onion, and seaweed mixture. Next top with sliced radish, chopped radish leaves or other greens, the edamame beans, and the cashew and sunflower seeds.
Pour the dressing over each rice bowl. Top with fresh chili if desired.
Notes
The above cook time includes cooking the rice from scratch if you are using pre-cooked rice this bowl should only take 15 minutes to prepare.
Nutrition Information
Serving Size

4
Amount Per Serving
Calories

221
Total Fat

14g
Saturated Fat

4g
Sodium

335mg
Carbohydrates

20g
Sugar

3g
Protein

5g