This Paleo chicken and avocado salad is fresh, healthy, and super tasty! The succulent marinated chicken goes perfectly with the fresh greens, crunchy asparagus, lush avocado, and a dairy-free "creamy" lemon cashew dressing - all topped off by a sprinkle of sesame seeds.
Sometimes I just feel like a simple meal that is full of green goodness!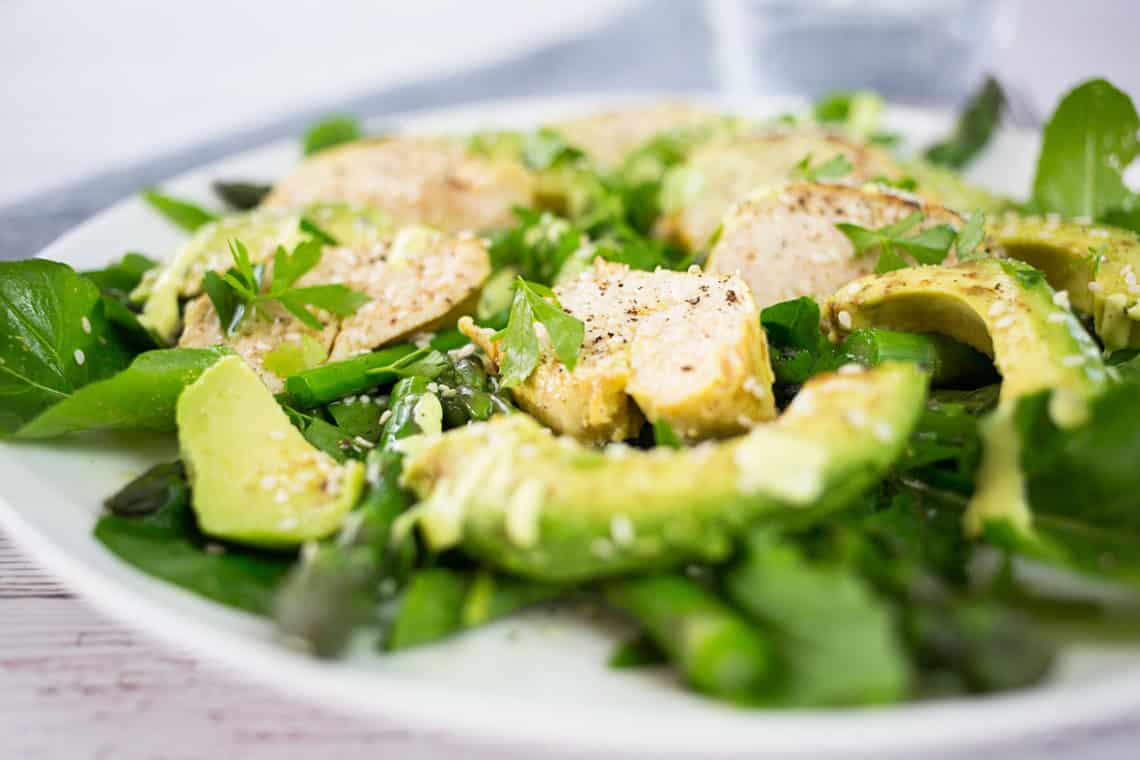 This chicken and avocado salad ticks all of the healthy boxes with lovely fresh greens, al dente asparagus, a good serving of quality protein, and healthy fats from the avocado and cashew nuts.
This salad makes a lovely fresh meal that can easily be enjoyed for a simple night in but tastes good enough to serve to guests too!
The creamy lemon cashew dressing provides the perfect amount of tangy citrus flavour to balance off this salad nicely, it is completely dairy-free but you wouldn't know it as the dressing tastes lovely and creamy!
This easy chicken salad will leave you feeling full and satisfied without feeling heavy and bloated afterward. It is easy on the digestive system as it contains no carbohydrates, grains, or legumes and is full of easy to digest bitter greens along with lemon and healthy fats that can help assist the sluggish of digestive systems!
Additional Recipe Notes
I like my asparagus al dente, this works well in this salad as the crunchiness of the asparagus complements the creamy avocado. The easiest way to prepare asparagus this way is to blanch it.
The preparation time does not include the marinade which can be left anywhere from 30 minutes to overnight for maximum flavour.
The chicken should work out to be around 2 small chicken breasts, pound or split if they are thicker than 2cm or ⅘"
A ridged cast-iron pan works best to grill the chicken.
How do you blanch asparagus?
To blanch the asparagus bring a pot of water to a boil and place the asparagus covered in the pot for anywhere from 1-3 minutes depending on how well you like your asparagus done. Cook the asparagus for 1 minute for al dente (firm and slightly crisp and crunchy) up to 3 minutes for tender and soft.
You can test the asparagus by pulling out a stem and feeling for your preferred texture. Once blanched drain and plunge the asparagus into icy cold water. This stops the cooking process and helps preserve the beautiful green colour.
For other gluten and grain-free chicken recipes you may like to try:
Chicken with Cannellini Beans and Thyme
Mediterranean Baked Chicken with Eggplant, Zucchini, Tomato, Olives & Basil
For other healthy salad recipes you may like:
Loaded Lentil Salad

Detox Buddha Bowl with Spicy Chickpeas & Cumin Cashew Sauce
Beetroot, Avocado & Rocket Quinoa Salad with Spiced Walnuts & Mint

I hope you enjoy this chicken salad recipe! Please let me know how you got on in the comments below or leave a star rating in the recipe card, I love hearing from you!
For more tasty recipes and to see what I've been getting up to you can follow me on Facebook, Instagram, Pinterest or Twitter.
Have a lovely week!
Hope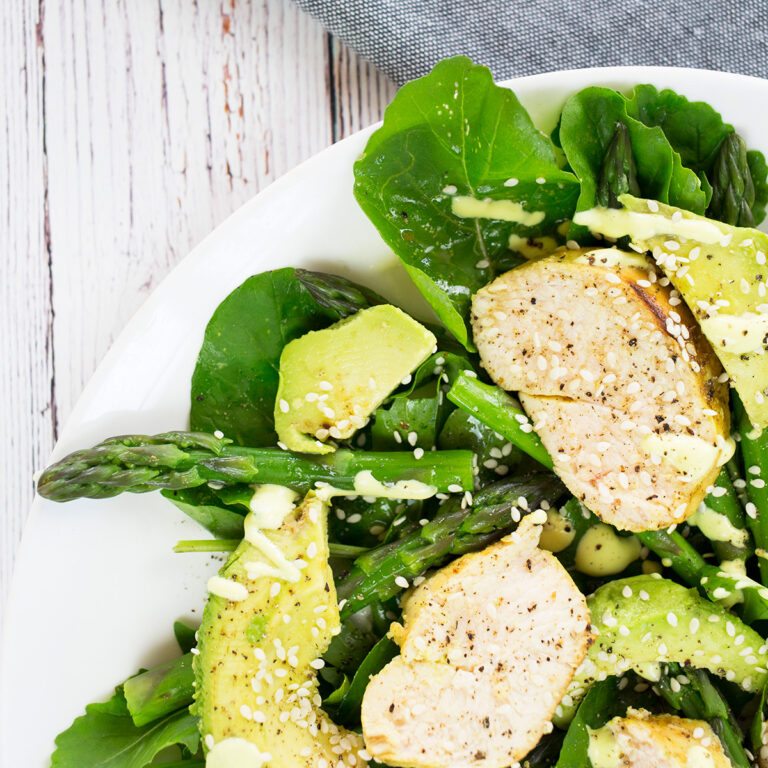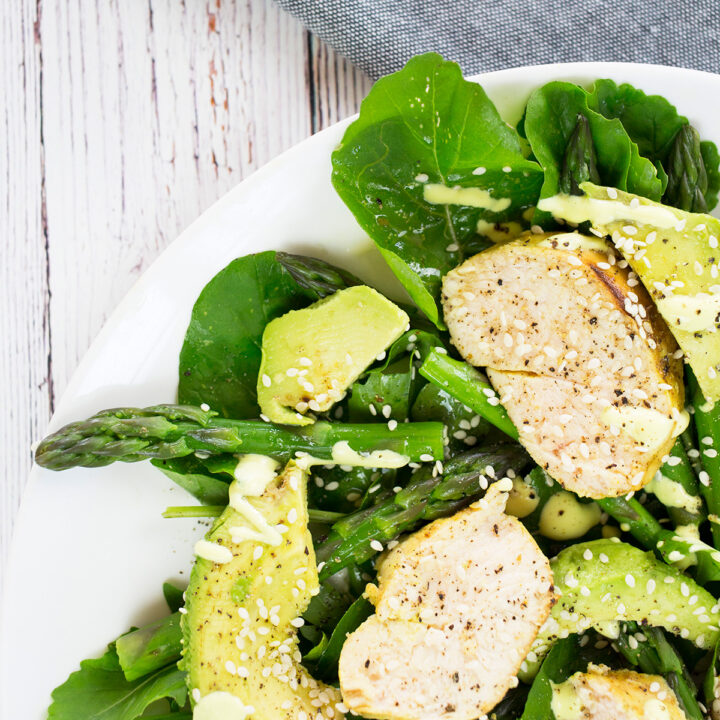 Chicken, Avocado & Asparagus Salad with Lemon Cashew Dressing (Paleo)
Inactive Time:
30 minutes
A fresh and healthy chicken salad with avocado and asparagus topped off by a creamy lemon cashew dressing. Paleo, Dairy-Free, Gluten-Free.
Ingredients
2 small chicken breasts (400gm/14oz)*
1 Tbs coconut oil for cooking
Chicken Marinade
3 Tbs olive oil
2 Tbs lemon juice
1 teaspoon garlic, crushed
¼ teaspoon turmeric *optional
¼ teaspoon salt
¼ teaspoon fresh ground black pepper
Lemon Cashew Dressing
⅓ cup cashew nuts, soaked*See instructions
4 Tbs water
3 Tbs lemon juice
1 Tbs almond milk or other nut milk
½ teaspoon garlic, crushed
¼ teaspoon turmeric
salt and pepper to taste
Salad
100 gm / 3.5 oz rocket or other salad greens
1 avocado
250 gm / 8.8 oz asparagus (approx 1 bunch)
2 Tbs sesame seeds
2 Tbs fresh flat-leaf parsley
salt and pepper to taste
Instructions
Place the ingredients for the marinade in a bowl and mix together, place the chicken breasts in the bowl and coat evenly in the marinade. Cover and leave for 30 min - overnight.
Add cashew nuts to a bowl and enough warm water to cover them, cover the bowl and let them sit for 15 minutes while you make the rest of the salad.
Melt 1 Tbs coconut oil in a cast-iron pan on high heat. Once the pan is very hot turn the pan down to medium heat. Cook the chicken breasts for about 5 minutes on each side so that they are are golden brown on the outside. Pour the remaining marinade over the chicken when you have a couple of minutes left to cook. Remove the chicken and set aside to rest while you prepare the rest of the salad.
Place the soaked cashew nuts, water, almond milk, garlic, and turmeric in a high power blender or food processor and blitz until smooth and creamy. Add more water if you would like a thinner consistency. Add salt and pepper to taste.
Bring a medium pot of water to boil. Trim the woody ends from the asparagus and cut the remaining asparagus in half. Add the asparagus and blanch for 1 minute. Drain and plunge into a bowl of icy cold water.
Arrange the rocket over plates or a platter, slice the avocado, and arrange place this and the asparagus over the rocket.
Once rested slice the chicken, and add to the salad. Sprinkle with sesame seeds, parsley, and salt, and pepper. Drizzle with the lemon cashew dressing and serve.
Notes
The prep time does not include the marinade which can be left anywhere from 30 minutes to overnight for maximum flavour.
The chicken weight should work out to be approx 2 small chicken breasts, pound or split if they are thicker than 2cm or ⅘".
A cast-iron pan with ridges works best to grill the chicken.
The asparagus is cooked al dente - for more information on blanching asparagus see the additional recipe notes in the blog post.
Nutrition Information
Yield

2
Serving Size

2
Amount Per Serving
Calories

570
Total Fat

49g
Saturated Fat

7g
Cholesterol

10mg
Sodium

40mg
Carbohydrates

23g
Sugar

5g
Protein

14g
This nutritional information is an estimate only and is provided as a courtesy to readers. It was auto-generated based on serving size, number of servings, and typical information for the ingredients listed in the recipe card. Please feel free to use your preferred nutrition calculator. Please consult your doctor about any specific dietary requirements.