This is a colourful, tasty and healthy beetroot salad that is great for any occasion. The sweet beetroot is a great match with creamy avocado and feta alongside the crisp baby rocket leaves, quinoa topped off with spiced walnuts and fresh mint.
This tasty beetroot salad makes a healthy side dish or is a tasty salad to take to along to a BBQ, potluck or picnic this summer.
Chock full of fresh produce, different flavours, and textures this salad is a crowd pleaser and is great for entertaining.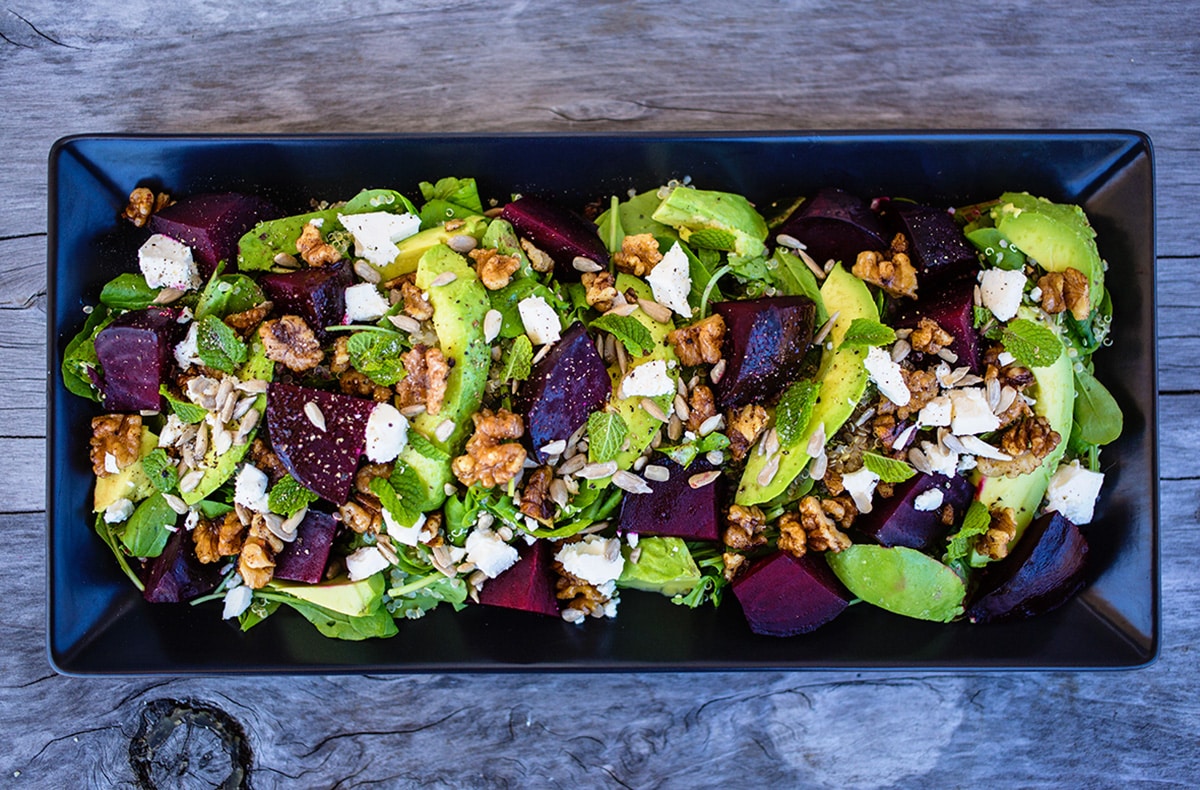 It is looking like we are in for a hot and humid summer here in NZ, so I am so excited that salad season is finally here.....
Using fresh and colourful produce to mix and match in any recipe is one of my favourite things, and that's what salads are all about!
We have just harvested our beetroot for the summer and what better way to use it than to put it in a delicious beetroot and avocado salad!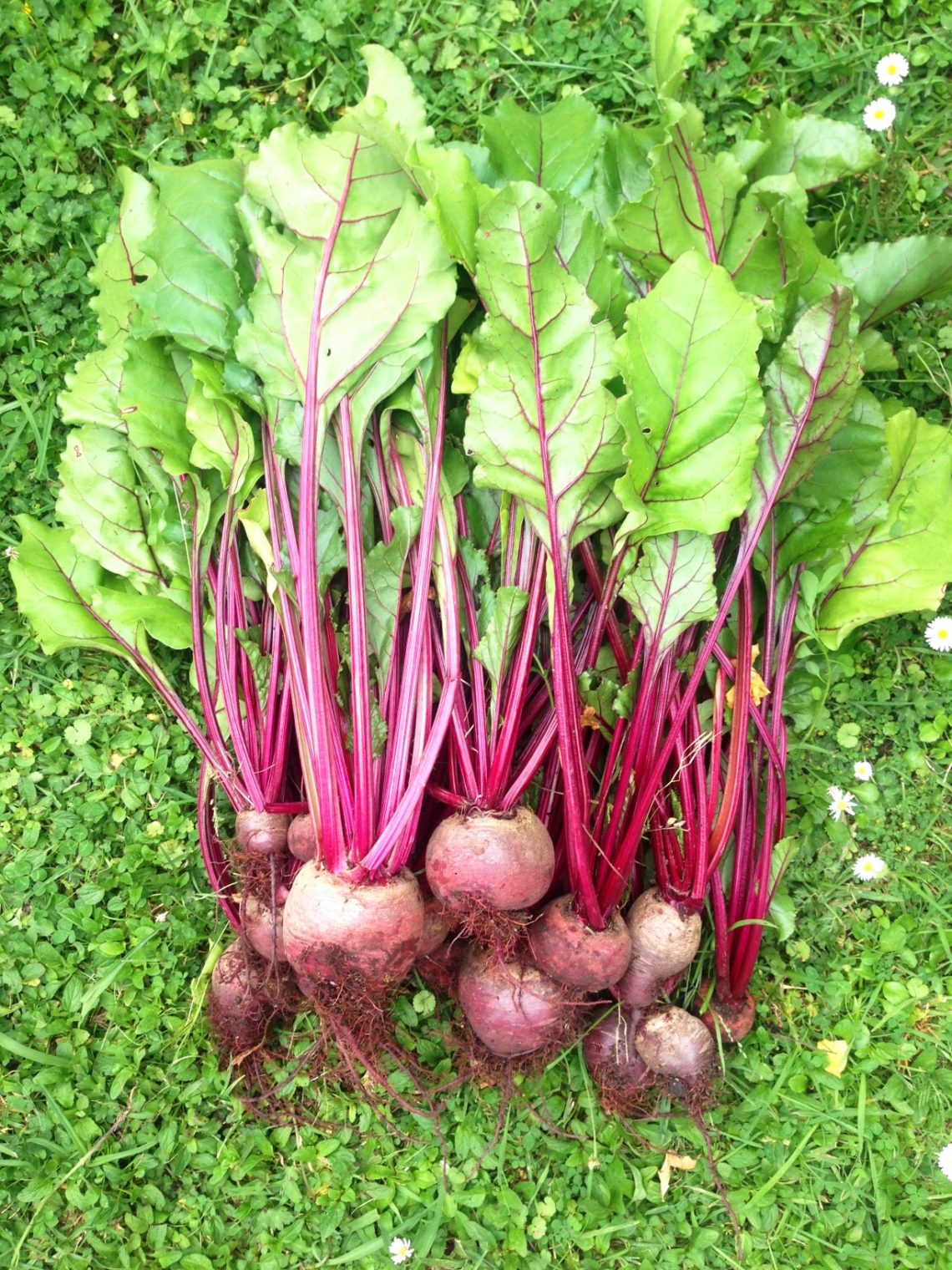 We will be heading away camping which we do every summer and will see how that goes with our little boy. My busy toddler is going through a running away phase at the moment, so there may not be much sitting down going on......
And strangely enough I quite like sitting down at times.......especially when I am supposed to be on holiday!
Last year we had three attempts at camping all of which didn't go too well....Extreme storms, flooding, baby with an tummy bug, a trip to A & E late at night resulting in having to abandon camp and stay in a hotel...etc etc .... you get the idea...
But no one can say we didn't try right? This year it is going to be different - I just know it!
What to serve with this salad:
This beetroot, avocado, and quinoa salad goes well with grilled meat or fish or anything that is suitable for the BBQ.
This salad is perfect for a shared picnic or potluck dinner and will go well with most other salads such as my loaded lentil salad, chicken mango salad, healthy broccoli salad.
It can also be enjoyed as it is for a healthy lunch - or make it into more of a filling meal with a poached egg on top.
Additional Recipe Tips:
To make this beetroot and avocado salad Paleo-friendly then remove the quinoa and the feta. You may like to bump it out with more salad greens.
Chines five spice powder is a blend of cinnamon, cloves, star anise, fennel seeds, and Szechuan peppercorns that you can find in most supermarkets. If you can't find this then gently cooking the walnuts with a tiny amount of cinnamon will work well.
Remove the goat's feta to make the salad Vegan and/or dairy-free, you could use Vegan cheese instead or add in some more avocado for some extra creamy goodness.
Nutrition Info:
Here is some nutritional info for those of you that like to know this stuff, and if not please skip down to the recipe!
Beetroot is thought to help with the livers detoxification processes making beetroot an excellent vegetable to enjoy when overindulging. Beetroots have excellent antioxidant and anti-inflammatory properties (1, 2, 2,) and are high in fibre and are a source of folate, manganese, potassium, vitamin C and iron (source).
Quinoa is a gluten free grain that is an excellent plant based source of protein as it one of the few plant based foods that contain all 9 essential amino acids. It is a good source of fibre and of manganese, magnesium, phosphorous, folate, copper, iron and zinc (source).
Avocados are an excellent source of healthy fats and are classed as a "superfood" as they are rich in various nutrients, minerals and vitamins and contain a unique collection of protective organic compounds like phytosterols, carotenoids, and flavonoids (source).
Other salad recipes you might like to try:
Roasted Pumpkin, Chickpea and Sundried Tomato Salad
Sweet Potato & Feta Salad with Pomegranate & Pecans
I hope you enjoy this beetroot, avocado, and feta salad recipe. Please let me know how you got on and leave a star rating, I love hearing from you!
For more tasty recipes and to see what I've been getting up to you can follow me on Facebook, Instagram, Pinterest or Twitter.
Hope
[mpprecipe-recipe:27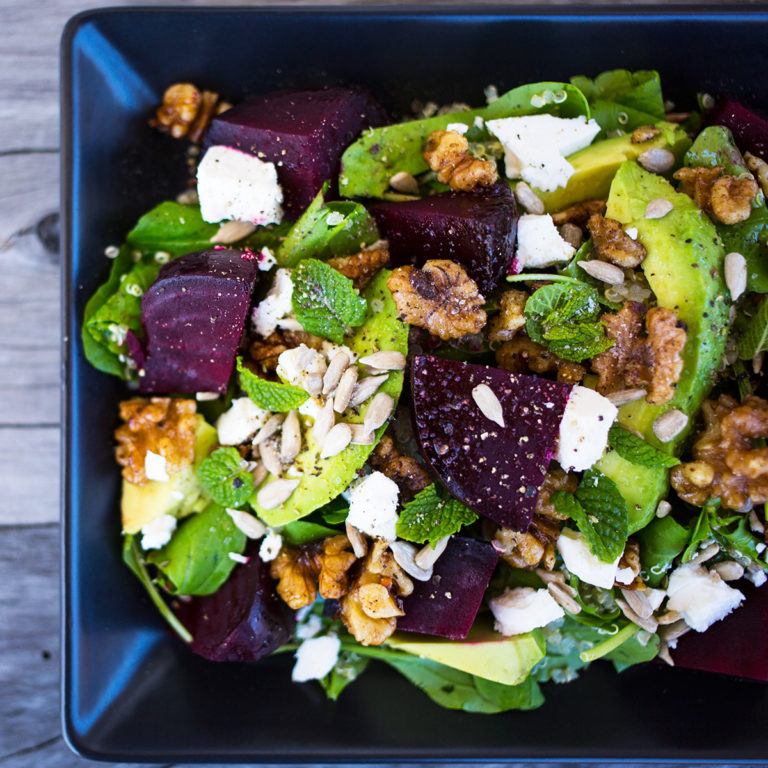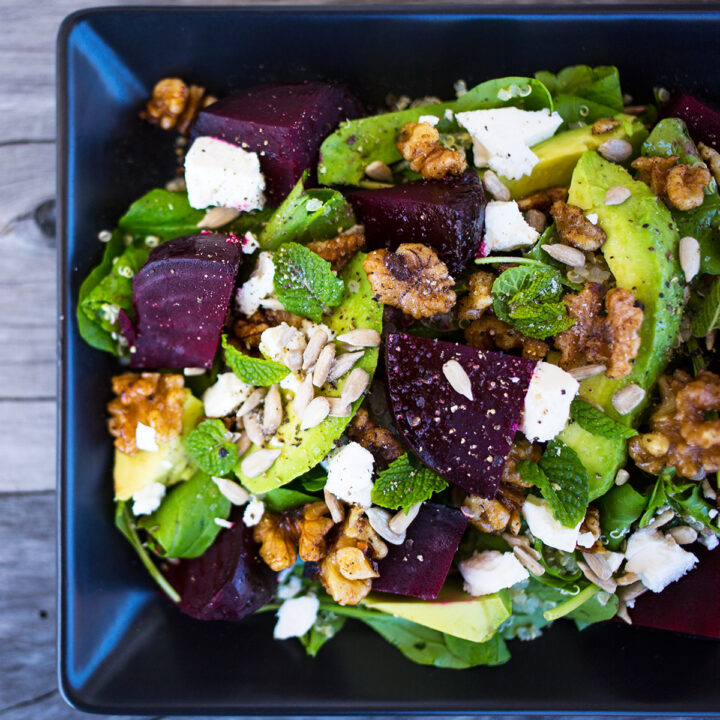 Beetroot, Avocado & Quinoa Salad with Feta, Spiced Walnuts & Mint
Yield:
Serves 6 as a side
A delicious & healthy salad that is full of flavour and different textures with beetroot, avocado, rocket, quinoa, feta, spiced walnuts & mint.
Ingredients
Beetroot Salad
2 medium sized beetroot
1 cup quinoa
½ cup chopped walnuts
1 teaspoon chinese five spice powder *
1 teaspoon olive oil for cooking walnuts
1.5 cups of baby rocket leaves/arugula
1 avocado
½ medium red onion
½ cup feta, cubed.
2 tablespoon sunflower seeds
1 tablespoon fresh mint
Salad Dressing
Salt and Pepper to taste
2 tablespoon extra virgin olive oil
1 tablespoon balsamic vinegar
1 garlic clove, peeled and minced
Instructions
Wash the beetroot and cut the ends off the beets then place in a steamer or a colander set on a saucepan with about 2 inches of simmering water. Steam for about 20 minutes until beets are tender when piercing with a knife. Remove and leave to cool.
Thoroughly rinse the quinoa before cooking. Put the quinoa in a saucepan. Pour in 2 cups of water. Cover and bring to the boil and then simmer for about 12-15 minutes until all of the water is absorbed. Then drain the quinoa to make sure any excess water is removed and place in a bowl.
While the beetroot and quinoa are cooking prepare the rest of the salad.
Lightly pan fry the walnuts in the coconut oil and sprinkle the chinese five spice powder over the walnuts to coat while cooking. Pan fry the walnuts for 2-3 minutes until light golden brown. Set the walnuts aside to cool on a plate lines with a paper towel to absorb the excess oil.
Chop up the red onion, peel and slice the avocado and chop up the fresh mint.
Peel the cooled beet's skin off with a vegetable peeler and cut each beetroot into halves, then each half into wedges.
Mix the rocket leaves evenly through the cooked quinoa, then arrange the beetroot wedges and avocado evenly over the salad.
Top with the spiced walnuts, goats feta, sunflower seeds and chopped mint.
Pour the dressing over the salad just before serving.
Add salt and pepper to taste.
Notes
Chinese five-spice powder is a blend of cinnamon, cloves, star anise, fennel seeds, and Szechuan peppercorns that you can find in most supermarkets.
Use a good quality goats feta cheese works best. Alternatively, you could use a Vegan feta.
The nutritional information is approximate only and is based on serving 6 as a side salad.
Nutrition Information
Yield

6
Serving Size

6
Amount Per Serving
Calories

265
Total Fat

21g
Saturated Fat

4g
Trans Fat

0g
Unsaturated Fat

16g
Cholesterol

11mg
Sodium

343mg
Carbohydrates

15g
Net Carbohydrates

10g
Fiber

5g
Sugar

3g
Protein

6g
This nutritional information is an estimate only and is provided as a courtesy to readers. It was auto-generated based on serving size, number of servings, and typical information for the ingredients listed in the recipe card. Please feel free to use your preferred nutrition calculator. Please consult your doctor about any specific dietary requirements.
Save
Save
Save
Save
Save
Save
Save
Save
Save
Save
Save
Save
Save
Save
Save
Save
Save
Save
Save
Save
Save
Save
Save
Save
Save
Save
Save
Save
Save
Save