You will love this delicious mango smoothie with maca. This Paleo and Vegan smoothie is full of tasty ingredients that will give you a nutritious start to the day!
This mango smoothie is smooth, velvety and full delicious mango flavour. No added sugar or sweetener are needed as this smoothie is sweet enough naturally without any extras needed!
I always like to ensure my smoothies are not just full of fruit. This mango maca smoothie has a good serving or protein and healthy fats from the added nut butter and ground flaxseed making this smoothie a great start to the day.
The added maca can help support stamina and energy production and I have added a dash of turmeric (which you can't taste - I promise!) - well known for its anti-inflammatory, immune boosting and liver support properties.
Mangoes are one of my favourite summer fruits and although it is officially autumn the weather has still been warm and humid so I am hanging on to summer while I can!
I'm currently buying them while I can to chop them up and freeze for later in the year. The glorious golden colour of mangoes always reminds me of sunshine - whilst at the same time bringing back memories of traveling in South East Asia - both of which make me feel summery and cheery!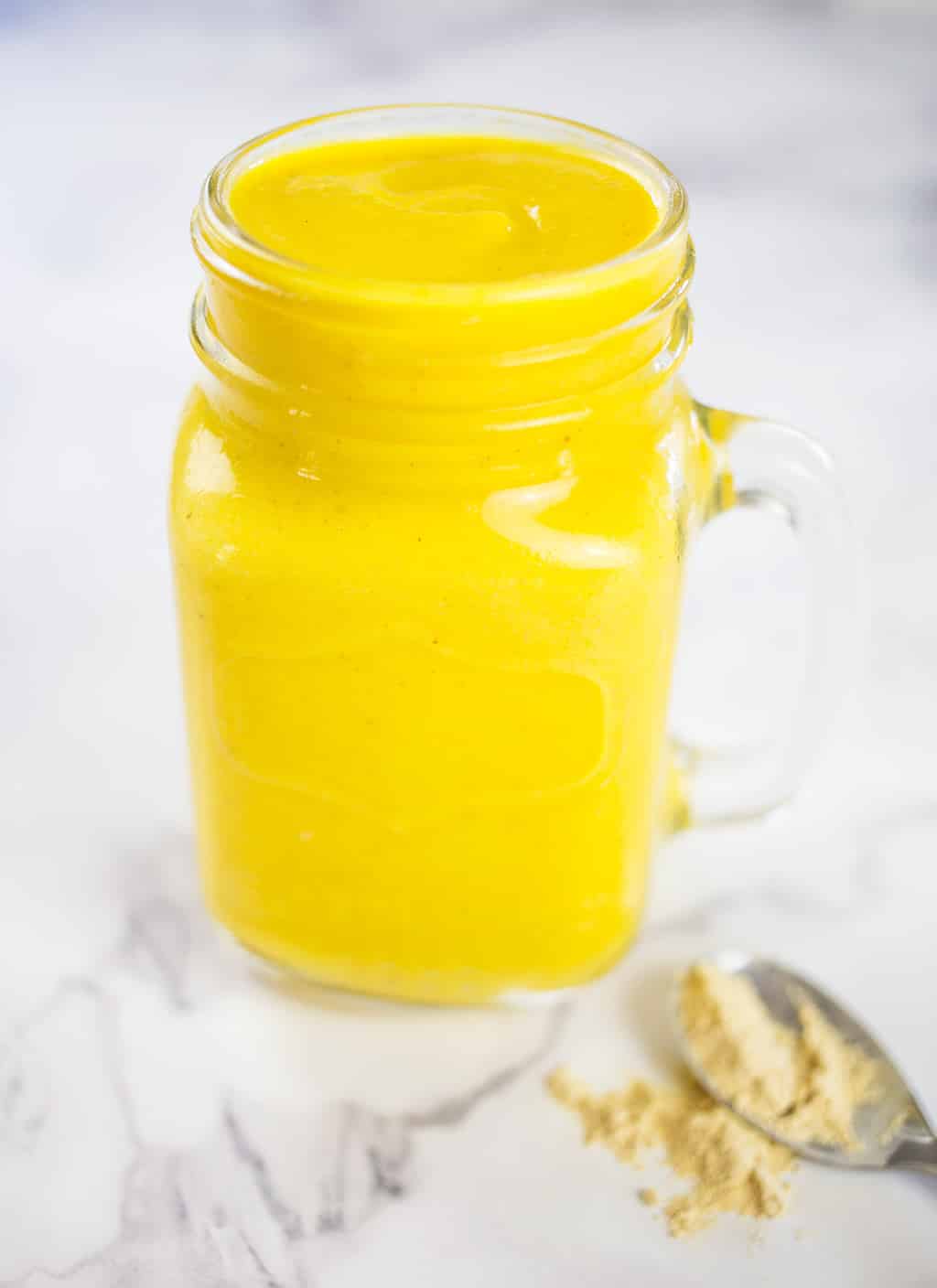 Disclosure: This post contains affiliate links. I may earn a small commission from purchases made through them, at no additional cost to you, which helps towards the running of this site and to keep this content free.

What are the benefits of maca?
Maca (Peruvian Ginseng) is a root vegetables that belongs to the same plant family as broccoli, radishes and turnips. It is classed as a "superfood" as it is rich in complex carbohydrates, amino acids, fibre, essential fatty acids, vitamins and minerals. Inca Warriers in Peru used to consume maca to help with endurance and stamina before battles or long journeys.
In South America maca has been used as both food and medicine for centuries and is believed to have adaptogenic and hormone balancing properties. (1) An adaptogen can help the body be more resilient to stress - something we could all often do with a helping hand with in todays fast paced society! Maca has also been shown to help increase libido (2) and SSRI/antidepressant induced sexual dysfunction (3),(4). Many people find that maca can help support them during times of fatigue and stress.
What type of maca should I take?
Traditionally, people in South America have always cooked maca before consuming or used a dried powder making a porridge like dish. Raw, uncooked maca can be hard on the digestive system which is why I prefer to use a gelatised form of maca such as this one which is steam heated through the production process. This makes the maca making more digestible and ready to consume as is.
It is important to note that as Maca is a brassica vegetable it can contain goitregens that can interfere with thyroid function. Cooking maca destroys these enzymes that can inhibit thyroid function which is another reason it can be beneficial to use a gelatised form of maca which is steam heated.
How to use maca powder
Maca can be added into smoothies or oatmeal, sprinkled over cereal or granola, or added into homemade baking, snacks and bliss balls.
Note: If you have any specific health concerns or are taking any medication please discuss with your Doctor before taking any supplements or making changes to your supplement regime. Do not consume maca if you are pregnant or breastfeeding.
For other healthy drinks or smoothies you may like to try:
Kawakawa tea - A Native Health Tonic
Creamy Coconut, Chia, Acai & Strawberry Layered Smoothie
For other nutritious breakfast ideas you may like:
Baked Eggs with Crispy Kale, Capsicum and Pumpkin Seeds
Quinoa Breakfast Bowl with Poached Egg, Avocado & Pesto
Tahini Oatmeal with Caramelised Bananas
Veggie Egg Muffins with Pesto
For more tasty recipes and to see what I've been getting up to you can follow me on Facebook, Instagram, Pinterest or Twitter.
Have a lovely week!
Hope x
Additional Recipe Notes
Using a blend of frozen and fresh mango isn't absolutely necessary but it really takes this smoothie to the next level! The frozen mango gives the smoothie an extra velvety ice cream like texture which is particularly tasty on hot days! Adding some fresh mango in with the frozen really gives the smoothie that burst of fresh yellow colour and taste which is more vibrant than if just using the frozen fruit on its own.
I love to chop mango and store in freezer bags so I can enjoy it any time of year. If you don't want to use frozen mango then fresh will work just as well but your smoothie may be a bit runnier. This smoothie mixture also can be pored into popsicle molds then frozen and can make very tasty mango popsicles - yum!
Mango Smoothie with Maca
---
Hope Pearce
A healthy and refreshing smoothie with mango and maca
5 minPrep Time
5 minTotal Time
Ingredients
1.5 cup mango, frozen* (About 1 mango)
1.5 cup mango, fresh (About 1 mango)
1 banana, frozen
¾ cup nut milk
1 Tbspn nut butter
2 tspn maca root powder
1 tspn turmeric, ground
1 Tbspn flaxseed, ground *optional
Instructions
Place all of the ingredients in a high powered blender with the liquid at the bottom. Blitz until smooth.
Add more nut milk if necessary to reach the consistency you desire. Depending on the power of your blender you may need to add more liquid to make it easier to blend the frozen fruit.
Pour into glasses and serve.
Notes
*It is not completely necessary to use frozen fruit, see additional recipe notes above.
7.8.1.2
55
https://lovefoodnourish.com/mango-smoothie-maca-vegan-dairy-free-paleo/
References:
Meissner H.O, et al. Hormone Balancing effect of Pre-Gelatized Maca (Lepedium peruvianum Chacon) Int J Biomed Sci, (2006)
Gonzales GF, et al. Effect of Lepidium meyenii (MACA) on sexual desire and its absent relationship with serum testosterone levels in adult healthy men. Andrologia. (2002)
Dording, C. M, et al. A Double-Blind, Randomized, Pilot Dose-Finding Study of Maca Root (L. Meyenii) for the Management of SSRI-Induced Sexual Dysfunction. CNS Neuroscience & Therapeutics. (2008)
Christina M. Dording, et al. "A Double-Blind Placebo-Controlled Trial of Maca Root as Treatment for Antidepressant-Induced Sexual Dysfunction in Women," Evid Based Complement Alternat Med vol. (2015) Article ID 949036
Brooks NA, et al. Beneficial effects of Lepidium meyenii (Maca) on psychological symptoms and measures of sexual dysfunction in postmenopausal women are not related to estrogen or androgen content. Menopause. (2008)
Gonzales GF. Ethnobiology and Ethnopharmacology of Lepidium meyenii (Maca), a Plant from the Peruvian Highlands. Evid Based Complement Alternat Med. (2012)
Medical Disclaimer
The information on this website are my thoughts, ideas and personal experiences around food, nutrition and wellness and hence all information presented on this website is for informational purposes only. The information on this website is not intended to diagnose, treat, cure or prevent any disease and is not intended to be a replacement for any medical treatment. This site is not intended to be used for therapeutic purposes, as medical advice or offer a cure to any health or medical condition nor intends to provide a substitute for the advice provided by a physician or other healthcare professional. If you are pregnant, nursing, have a medical condition or are taking any ongoing medication please seek the advice of your healthcare practitioner before making any changes to your diet, lifestyle or supplement regime. Please seek the advice of a healthcare practitioner for your specific health concerns.
Disclosure: This post contains affiliate links. If you make a purchase after clicking on an affiliate link then a small percentage will go towards the running of this site which helps keep this content free. Thank you!