This Paleo & dairy free hot chocolate is rich, creamy and full of goodness with a blend of anti-inflammatory and immune boosting spices. It is the perfect cosy pick me up on a chilly day!
This Paleo hot chocolate is the perfect blend of a cosy chocolate treat (that lets face it we all need those now and then!) but with some extra goodies in there such as turmeric, ginger and cinnamon - which may help reduce inflammation, support immune function and improve circulation (1),(2),(3).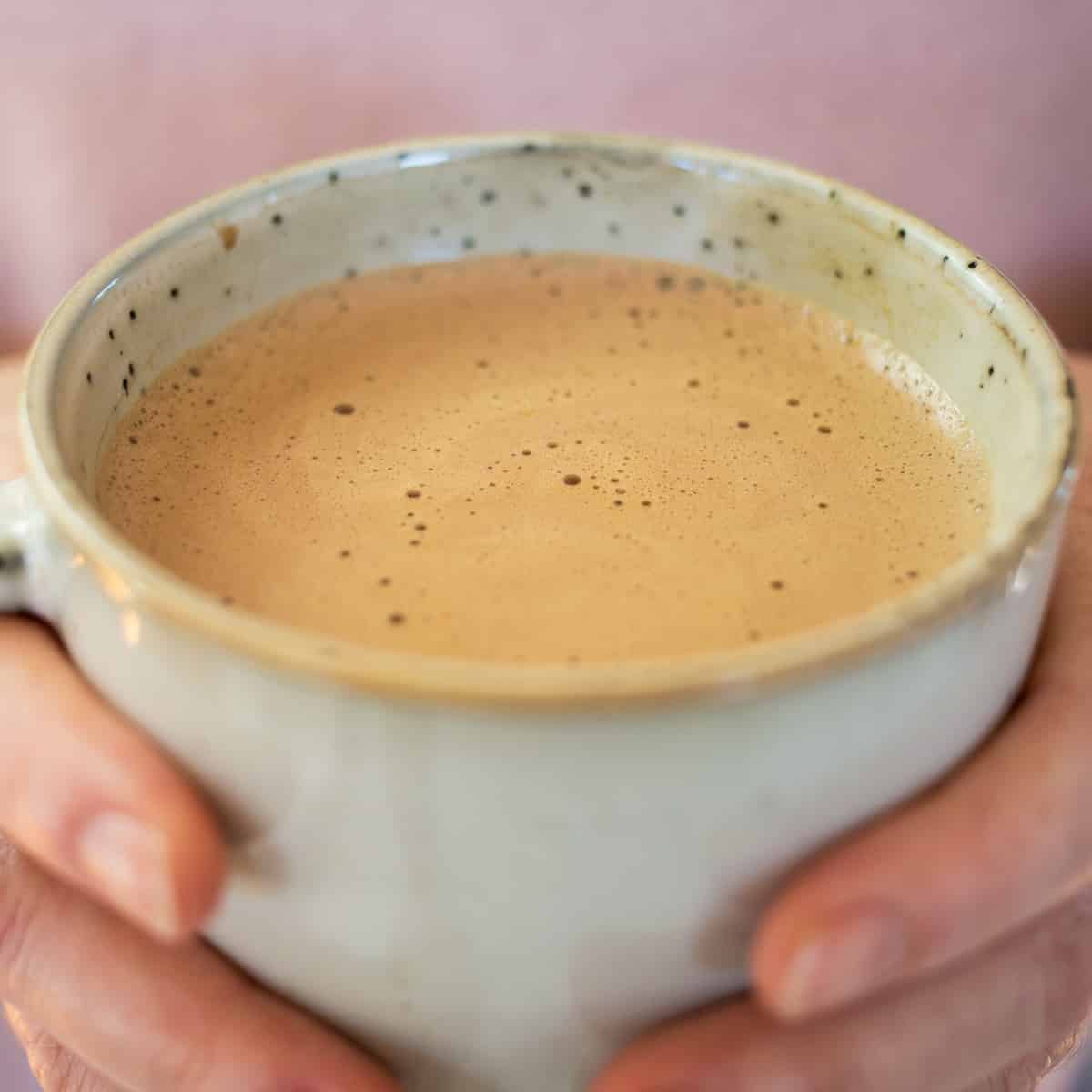 (Please note this post was originally written in August 2018)
Having just returned from a winter escape in Fiji (lucky us!) I am feeling a little under the weather after traveling, the change in temperature and in need of something to fight off those winter blues and give me a good healthy boost!
If I am being completely honest I am also suffering from a touch of post holiday blues and what better to help with that than a good dose of chocolate! Or to be specific in this case - raw cacao!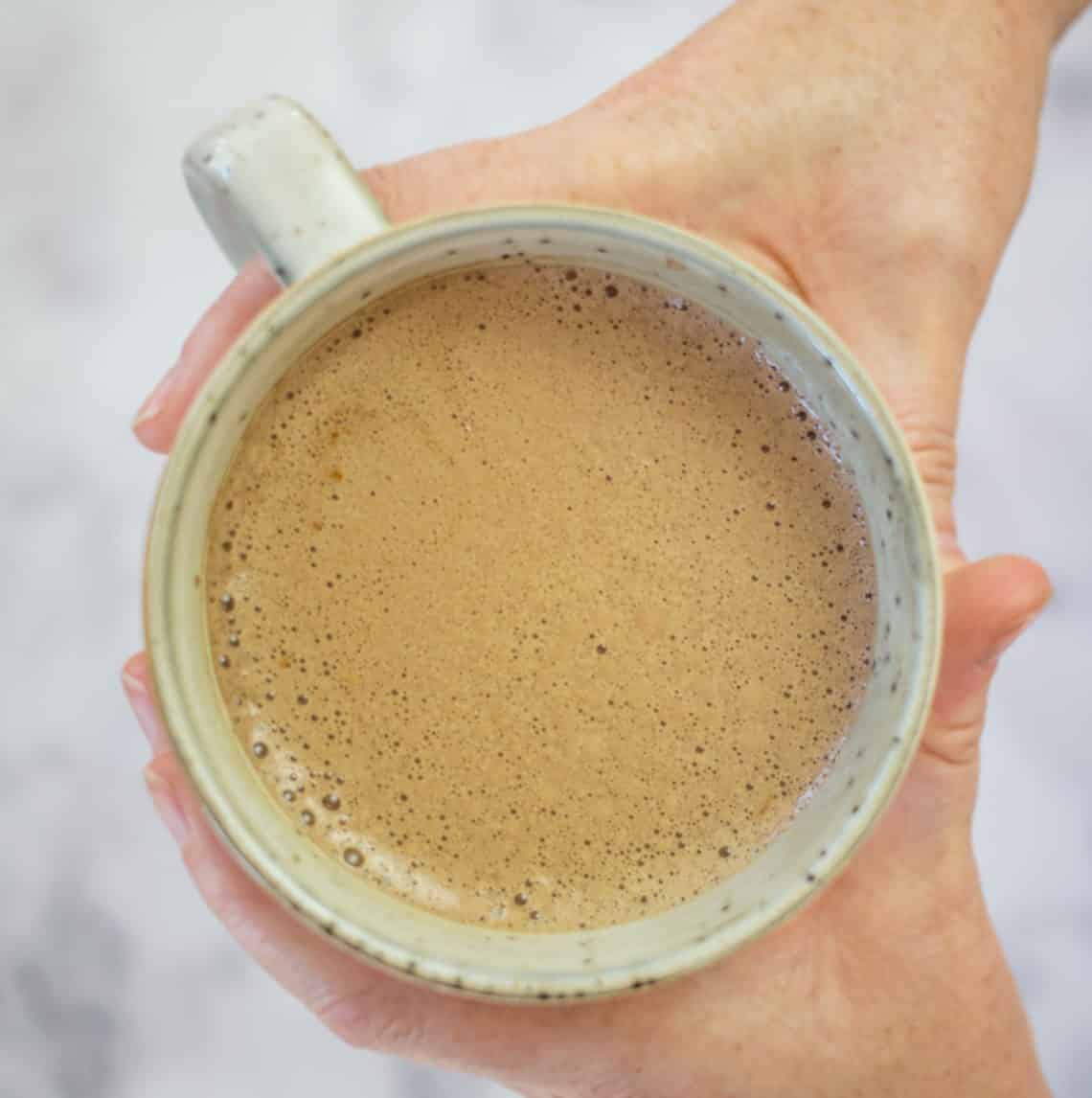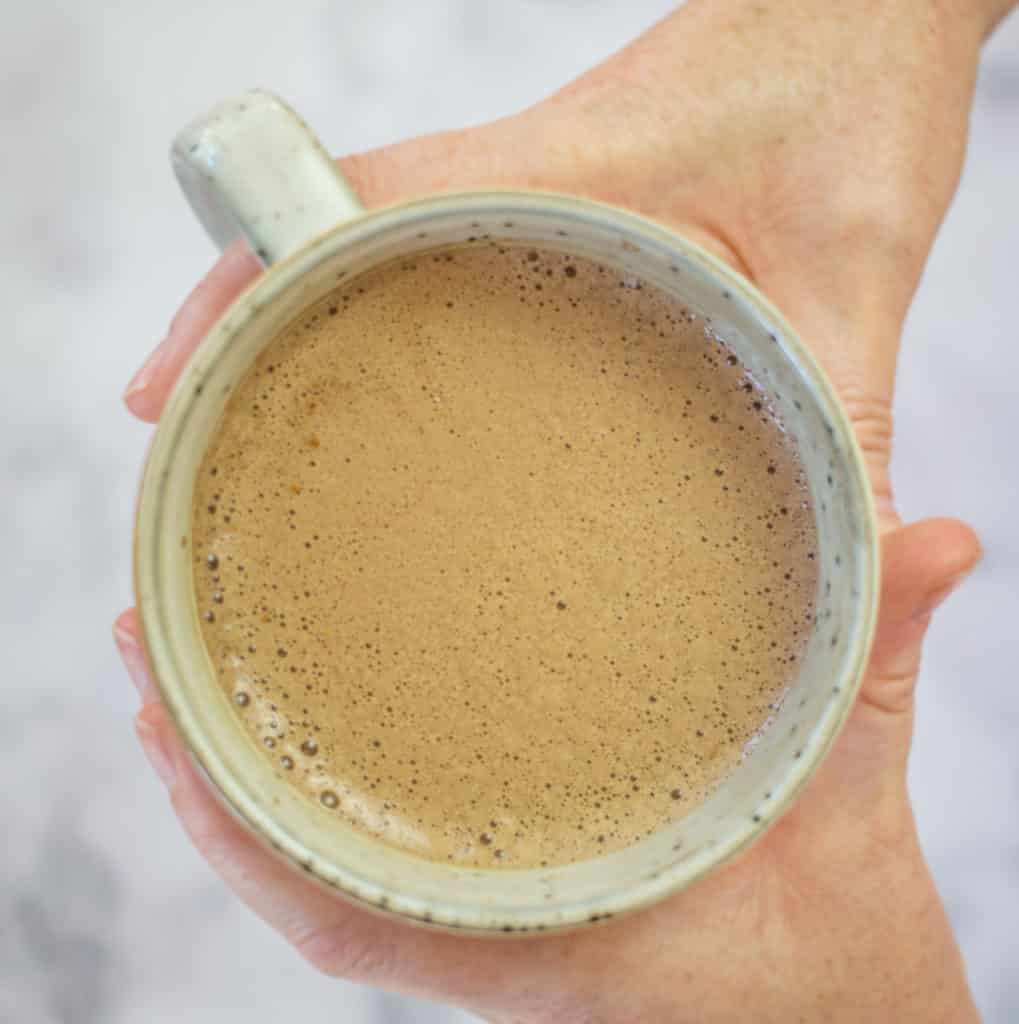 This Paleo and dairy free version of hot chocolate contains raw cacao powder as opposed to the more heavily processed cocoa powder which is processed at very high temperatures.
Raw cacao powder is a natural superfood, it is more nutrient dense than cocoa powder with very high levels of antioxidants (4).
Raw cacao is not only high in antioxidants, magnesium and iron (5), but also can help increase levels of feel good neurotransmitters that can help promote a sense of well-being and lift the mood.
Just what the doctor ordered I think!
Additional Recipe Notes
For those of you that know me I am always adding in spices where I can, in particular turmeric well known now for its anti-inflammatory, immune supportive (particularly immune modulating) and liver supporting properties (6), (7).
This hot chocolate is no exception!
I have added a dash of ground black pepper to this hot chocolate which helps with the bio availability of the turmeric - in particular curcumin - the principal compound in turmeric around which most of the research is focused (9).
Another trick to enhance absorption is to consume turmeric with fat - adding ½ teaspoon of coconut oil to this hot chocolate is another option.
You can use any milk that you like - this hot chocolate works well with unsweetened almond milk or coconut milk.
It really is worth going the extra milk and using a milk frother or putting this mixture quickly into your blender and blending it for a few seconds, this mixes the spices in well and makes it slightly frothy.
If you are looking for other ways to add raw cacao powder into your diet you may like to try:
Creamy Blueberry, Cacao & Coconut Energy Balls
Raw Vegan Cranberry & Chocolate Truffles
Or for other healthy drinks you may like:
Mango Smoothie with Maca (Dairy Free)
Kawakawa Tea - A Native Health Tonic
I hope you enjoy this recipe! Please let me know how you got on in the comments below, I love hearing from you!
For more tasty recipes and to see what I've been getting up to you can follow me on Facebook, Instagram, Pinterest or Twitter.
Have a lovely week!
Hope
Pin for later!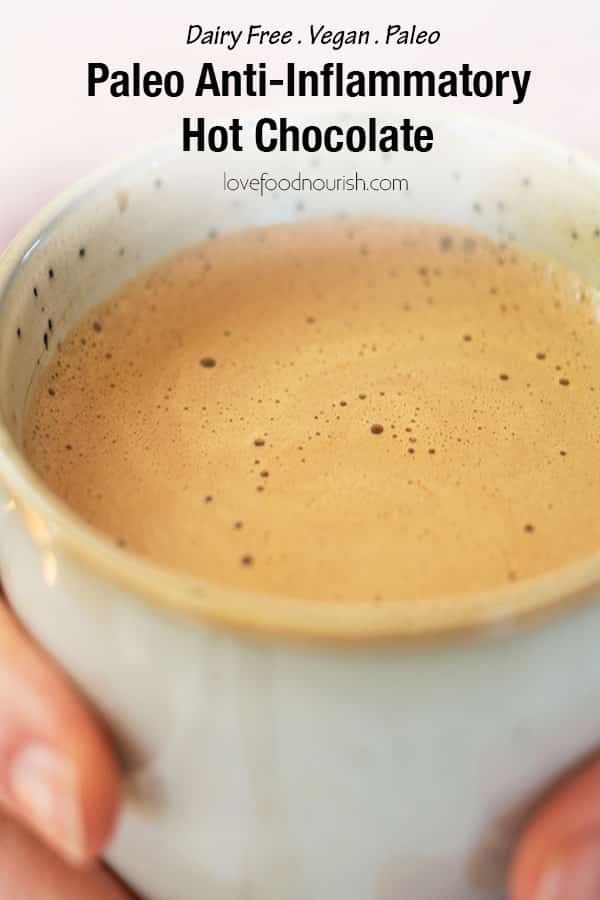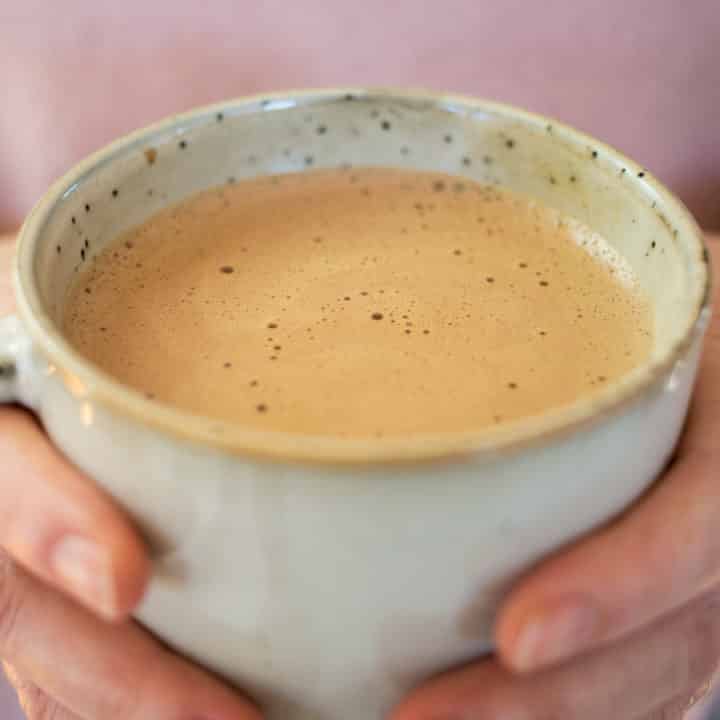 Paleo "Anti-Inflammatory" Hot Chocolate
A Paleo and Vegan hot chocolate with a delicious blend of spices. Dairy-Free and Refined-Sugar Free.
Ingredients
1 cup almond or coconut milk, unsweetened
1 cup water
2 Tbspn raw cacao powder
1 teaspoon ground cinnamon
½ - 1 teaspoon ground ginger - depending on your taste
½ - ¾ teaspoon ground turmeric - depending on your taste
pinch nutmeg
pinch sea salt
dash of freshly ground black pepper
stevia, maple syrup or honey as desired
Instructions
In a medium saucepan gently heat up the nut milk, water, spices and the salt and pepper.
Stir on a medium heat for 5 minutes to allow the flavours to infuse. Add the raw cacao powder and stir through until the flavours are combined.
Add desired sweetener to taste.
Whisk or use a milk frother to lightly froth if desired.
Notes
I like this drink to have quite a ginger kick, start with ½ tspn and taste and add more if you prefer.
The nutrition calculation was based on using almond milk and no added sweetener.
Please see additional recipe notes in the blog post for more information.
Nutrition Information
Yield

2
Serving Size

1
Amount Per Serving
Calories

51
Total Fat

2g
Saturated Fat

0g
Trans Fat

0g
Unsaturated Fat

1g
Cholesterol

0mg
Sodium

72mg
Carbohydrates

7g
Net Carbohydrates

4g
Fiber

3g
Sugar

0g
Protein

2g
This nutritional information is an estimate only and is provided as a courtesy to readers. It was auto-generated based on serving size, number of servings, and typical information for the ingredients listed in the recipe card. Please feel free to use your preferred nutrition calculator. Please consult your doctor about any specific dietary requirements.
[mpprecipe-recipe:62