These smoked salmon cucumber bites with avocado pea smash make the perfect healthy appetizer. Paleo, Whole30, Keto, gluten and dairy free these make a great little appetizer to take to nearly any occasion.
I love easy to make healthy appetizers that don't require a lot of time in the kitchen. These healthy bites are so simple to prepare, no baking required, simply pop in the fridge until you are ready to serve them.
BBQ season is still in full swing here and we are now enjoying a very hot Summer. These salmon cucumber bites make a healthy refreshing appetizer that is perfect to serve for a BBQ or party or take along as a plate to a pot luck or picnic. The smoked salmon goes so well with the creamy mix of the fresh avocado and pea smash topping the crisp crunchy cucumber nicely.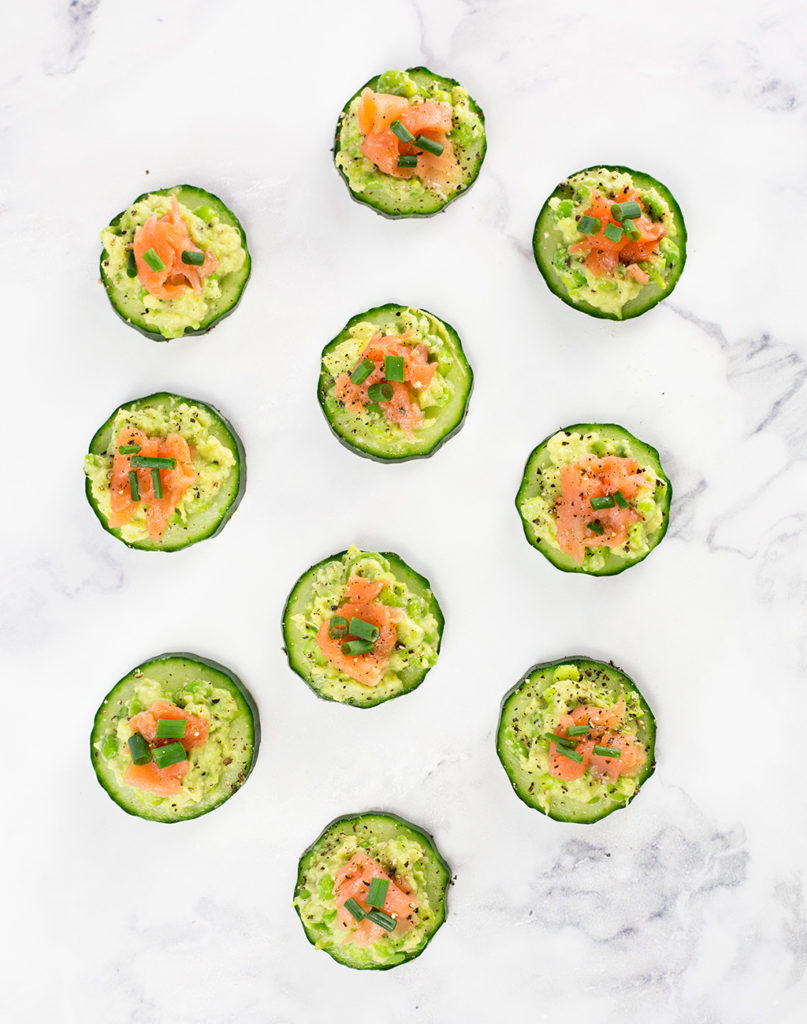 If you don't like peas then these will still work really well with just avocado. If you are following a paleo diet you may be confused about whether you can eat peas or not……
Are peas paleo?
Peas are generally thought to be fine to eat if you are following a paleo diet. Peas are lower in phytates and lectins than other legumes and are generally thought to have a lower affinity for binding to the gut wall therefore can cause less digestive issues. Also as they are consumed fresh not dried and are often cooked they are easier to digest and not so hard on the digestive system.
I personally don't like rigid diets as there is no one size fits all when it comes to health and believe there should always be a degree of flexibility and individuality when following any way of eating. Labels however have their place and certainly make it easier to see at a glance if a recipe is suitable for you. If you are extremely sensitive to legumes then it may be better to omit peas from this recipe.
With that being said avocado and pea smash is a really tasty combo so I hope you give it a go!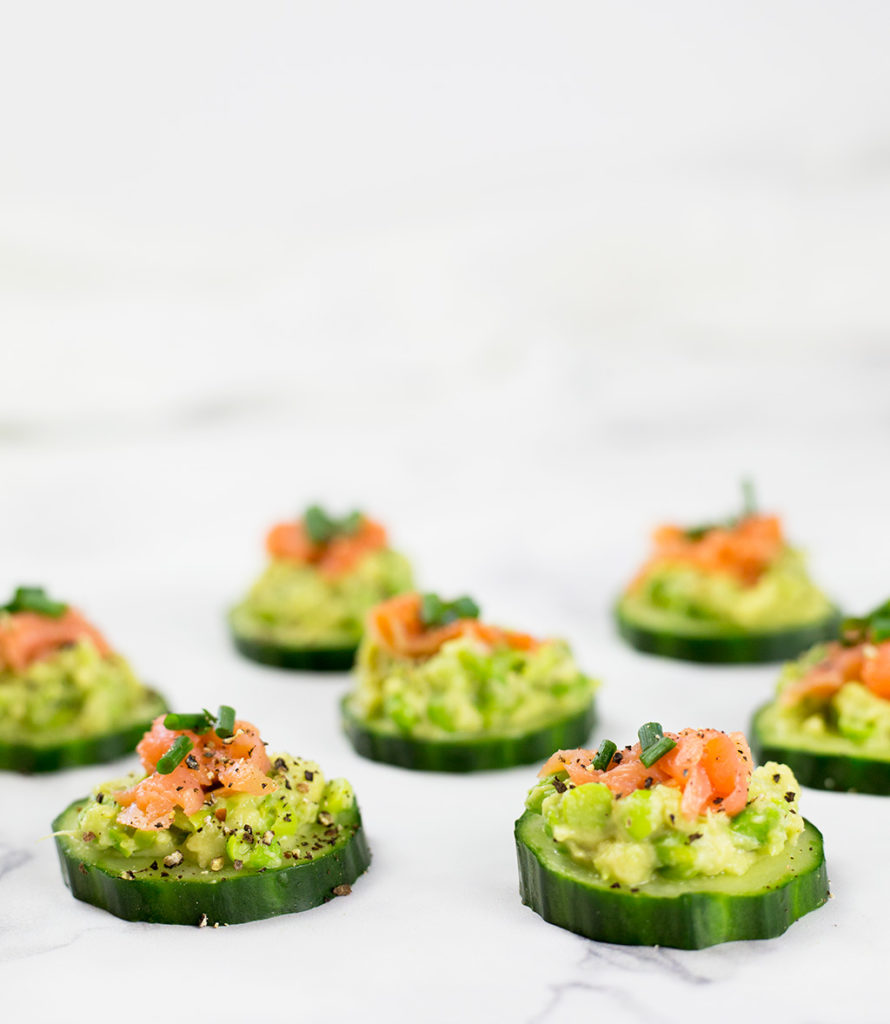 I hope you enjoyed this recipe. For more tasty recipes and to see what I've been getting up to you can follow me on Facebook, Instagram, Pinterest or Twitter.
Have a lovely week!
Hope x
Salmon Cucumber Bites with Avocado Pea Smash
---
Hope Pearce
Healthy Smoked Salmon and Cucumber Bites with Avocado Pea Smash
20 minPrep Time
20 minTotal Time
Ingredients
1 cup cucumber sliced into rounds - I used approx 1/2 a telegraph cucumber.
50gm/1.8oz smoked salmon

Avocado Pea Smash

1 avocado, cubed
1/2 cup frozen peas
2 Tbspn lemon juice
1 Tbspn olive oil
1 garlic clove, crushed
1/4 tspn himalayan sea salt
1/4 tspn black pepper

Topping

2 tspn chives, fresh, finely chopped
Extra squeeze of lemon if desired.
Instructions
First make the avocado and pea smash. If you are using frozen peas then place in a bowl of hot water for 20 minutes to defrost, drain off any excess water.
Add the lemon juice, olive oil, crushed garlic, salt and pepper, mash with a fork until the peas are crushed fairy well. Add the avocado and further mash with a fork until the mixture is the consistency you desire. I like mine a little bit lumpy. Taste and add more salt and pepper if desired.
Cut the cucumber into rounds. Place a spoonful of the avocado and pea smash onto each cucumber round.
Chop the smoked salmon or pull apart into small pieces. Place a small amount on top of the pea and avocado smash.
Top each bite with fresh chives and a tiny squeeze of lemon and freshly ground black pepper as desired.
Keep in the fridge until ready to serve.
Notes
This recipe makes 15 salmon cucumber bites.
7.8.1.2
73
https://lovefoodnourish.com/salmon-cucumber-bites-with-avocado-pea-smash/
Other recipes you may like to try: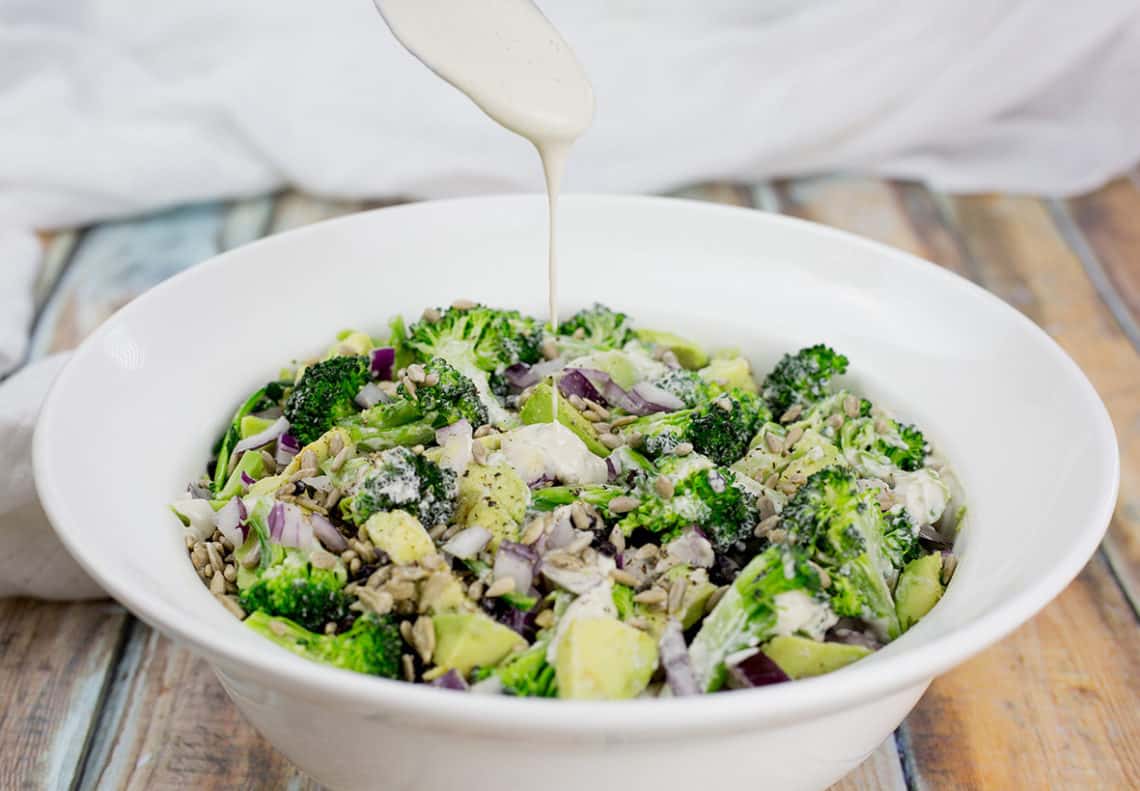 Healthy Broccoli Salad with Creamy Dressing (No Mayo – Paleo)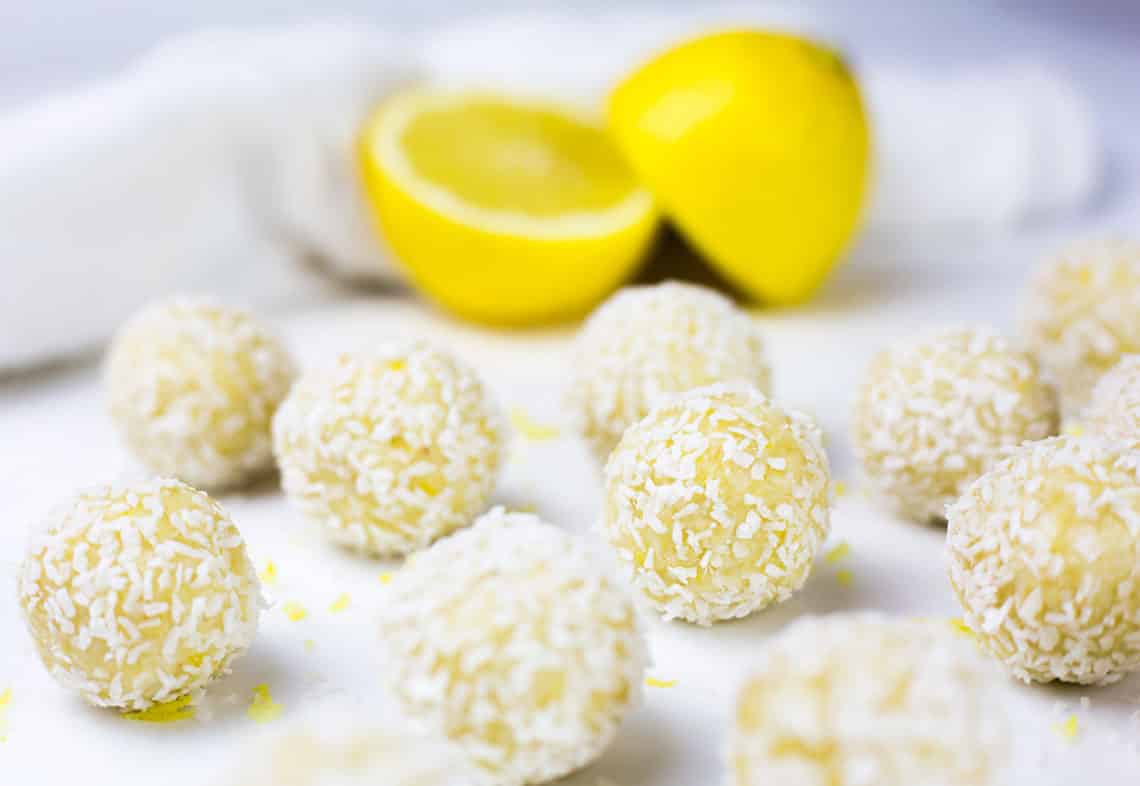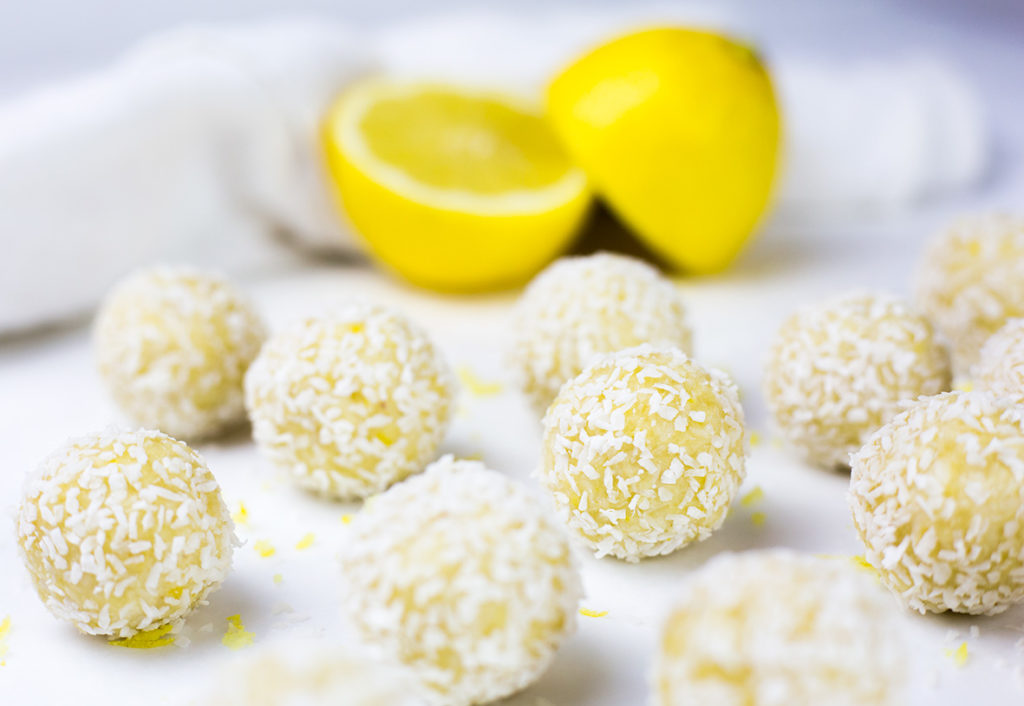 Creamy Lemon Coconut Bliss Balls (Paleo)
Paleo Fish Salad (Greek Style)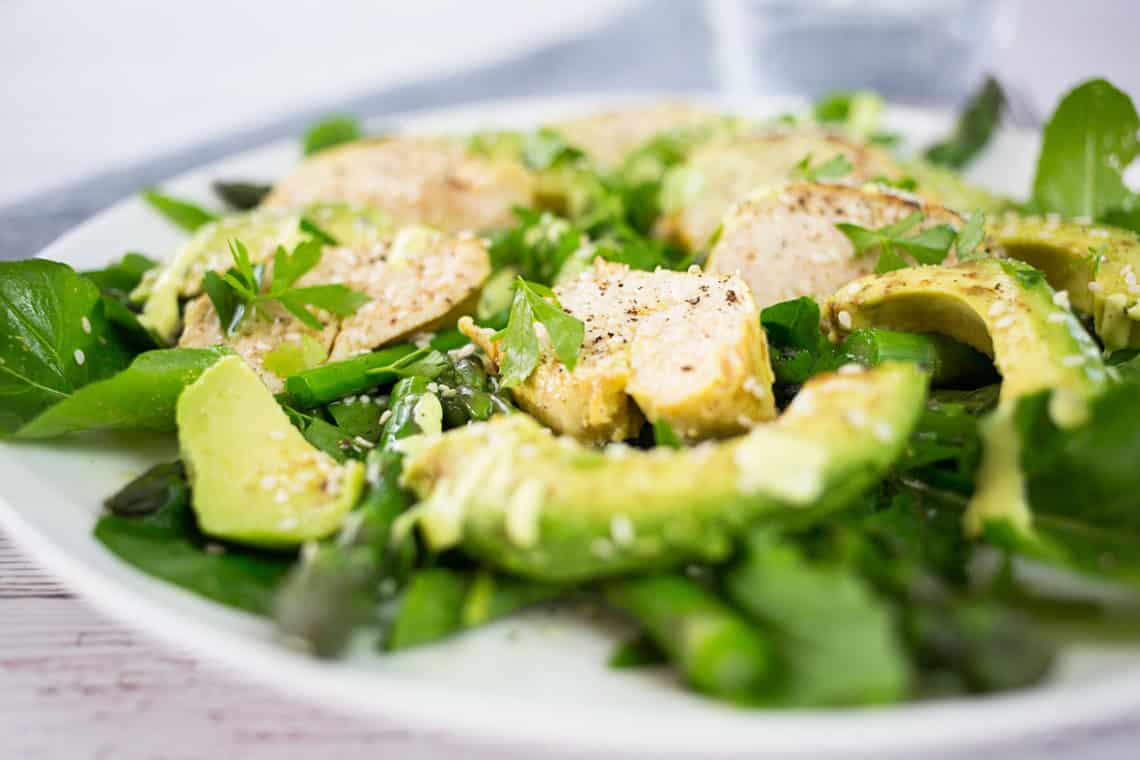 Chicken, Avocado & Asparagus Salad with Creamy Lemon Cashew Dressing (Paleo)