50 plus healthy kids snacks that are nutritious and easy to make. All of these snacks are gluten, dairy and refined sugar-free.
Coming up with healthy snack ideas for kids (particularly if they have food intolerances, allergies, or sensitivities) can be tricky!
If you are looking for healthy kids snacks (that they will actually enjoy) then you will love these delicious snack ideas made from real, unprocessed ingredients.
I get asked all the time by you guys for more snack ideas to feed your little ones with hungry tummies. If your family has food intolerances or sensitivities or is trying to avoid refined and processed foods it is common to be stumped when it comes to finding healthy snack ideas.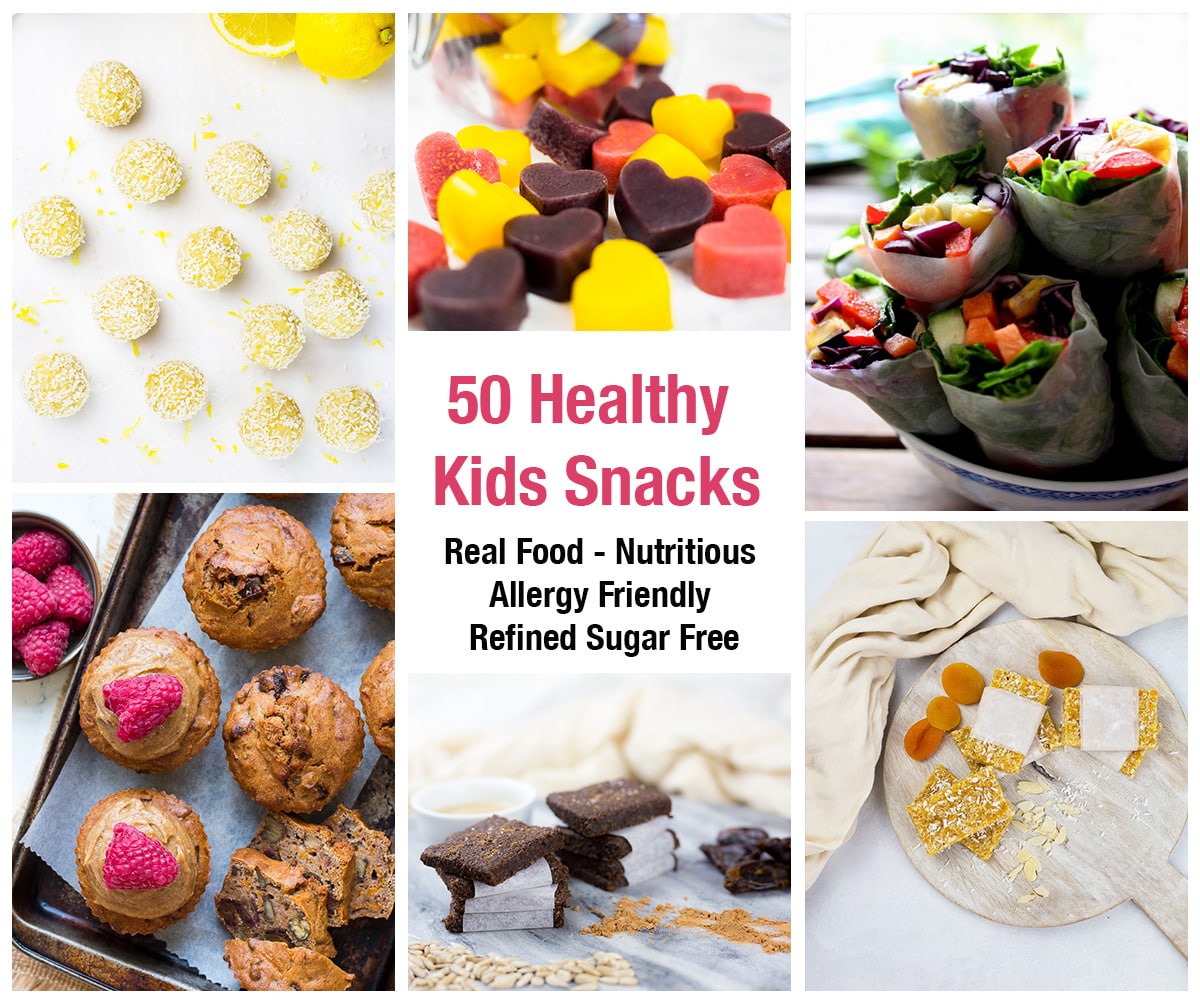 I have put together a list from some of my favourite bloggers to give you a quick and easy reference guide for some great ideas for healthy kids snacks. These snacks are all homemade and free from any refined baddies.
The best thing about making your own snacks is you can be sure about what goes into them! So many store-bought crackers and snacks are chock full of sugar and contain MSG, additives, and other things you don't want like high fructose corn syrup.
You can boost your child's nutrition by ensuring only good quality wholesome ingredients go into your snacks and sneaking in extra vegetables or fruit here and there!
In addition to having nutritious unprocessed snacks ensuring you are using a good quality Eco-friendly lunchbox that is BPA, PVC and lead-free is important to avoid contaminants leaching into the food. Bento-style boxes are awesome as there is no need for extra packaging!
Making your own snacks at home means that you can not only monitor what is going into them but you can really boost the nutritional value of your food giving your kids an extra healthy boost!
(This post for healthy kids snacks was first published on Love Food Nourish in October 2017, it has been updated to improve user experience)
50+ Healthy Kids Snacks
Gluten-Free Crackers
Homemade crackers are a great way to get some more nutritious nuts and seeds into your kids diets, many store bought crackers can be high in salt and contain additives. Making your own means they can be made into fun shapes too!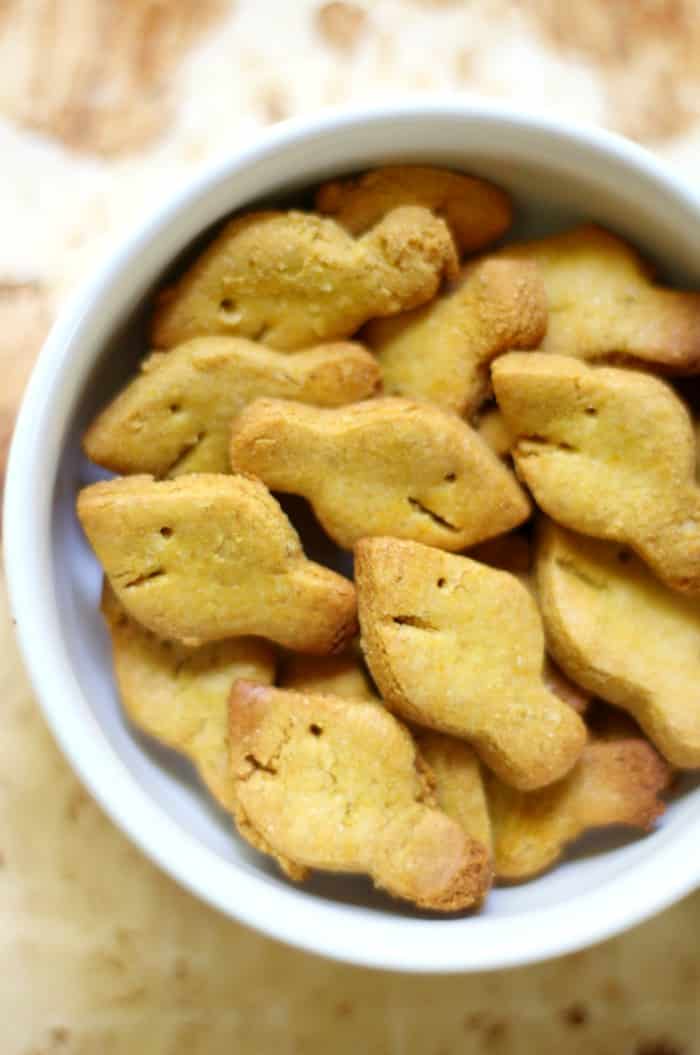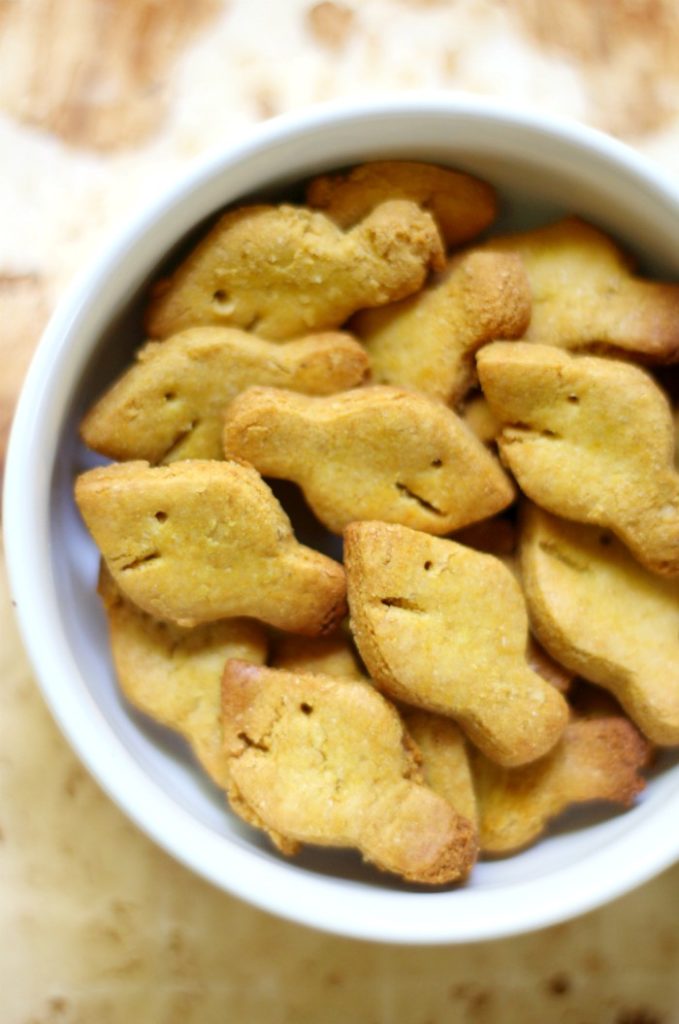 Homemade Gluten-Free Vegan Goldfish (Allergy-Free) (pictured) by Strength and Sunshine
Nut-Free Paleo Crackers by What Grandma Ate
Italian Tigernut Flour Crackers by Strength and Sunshine
Extra Crunchy Chia Seed & Flaxseed Crackers by Love Food Nourish
Healthy Nut & Seed Crispbread by Divalicious Recipes
Energy Bites and Bliss Balls
Energy Bites and Bliss Balls are a quick and easy way to make a super nutrient-rich snack that looks and tastes great and your kids will love!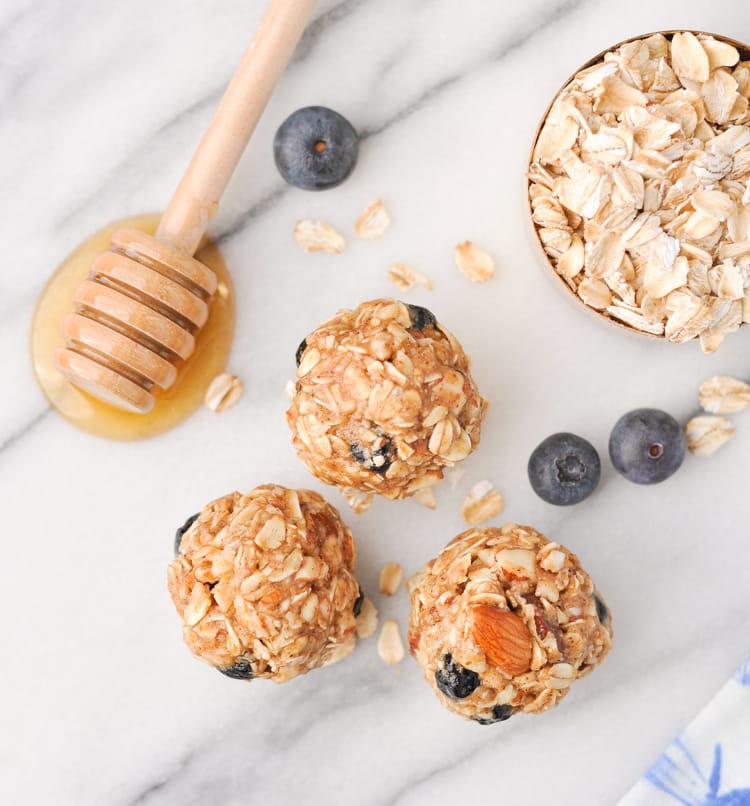 No-Bake Blueberry Almond Energy Snacks (pictured) by The Seasoned Mom
No Bake Energy Bites with Dates and Nuts by Veronika's Kitchen
No-Bake Carrot Cake Bites by Vegging at the Shore
Apple Crips Energy Bites by Taste and See
Vanilla Almond Balls by V Nutrition
Oatmeal Raisin Protein Balls by Allergy Girl Eats
Creamy Blueberry & Coconut Energy Balls by Love Food Nourish
Raw Peanut Butter Coconut Bites by Raia's Recipes
Apricot Date Nut Bites by Garlic & Zest
No-Bake Key Lime Pie Bites by Beauty and The Foodie
Creamy Lemon and Coconut Bliss Balls (pictured below) by Love Food Nourish
Gluten-Free Granola Bars, Nut Bars, and Seed Bars
Homemade granola and nut bars can be a nutritious and filling snack for kids. Many commercial granola or nut bars are pretty high in sugar although they may be marketed as "healthy". Making your own means you can make sure only nutritious and unrefined ingredients are going into them and you can also keep on eye on the sugar content!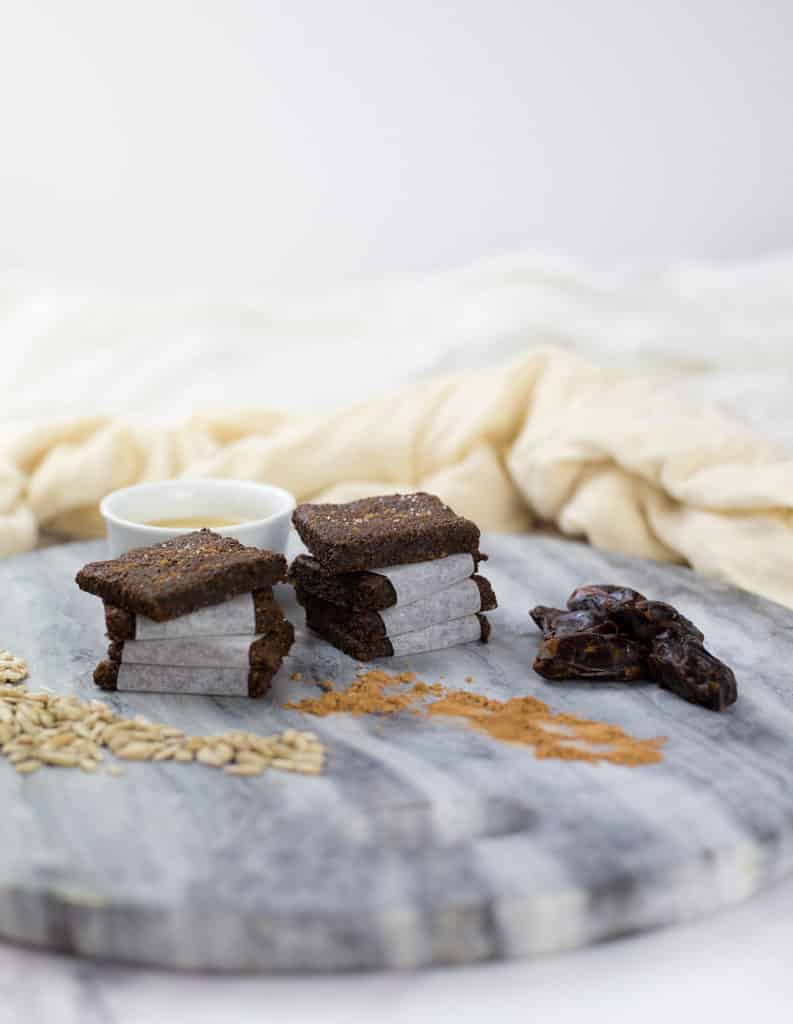 Carob and Tahini Seed Bars (Pictured above by Love Food Nourish)
Paleo Nut Bars with Goji Berries by Love Food Nourish
Fruity No-Bake Energy Bars by Happy Foods Tube
Apricot Coconut Slice by Love Food Nourish
Vegan Fruit and Oat Bars by Food Meanderings
Healthy Chewy No-Bake Granola Bars by Happy Kitchen Rocks
Easy Nut Fruit Bars by Pinch and Swirl
No-Bake Cinnamon Apple Energy Bars by A Virtual Vegan
Chia Fruit and Nut Bars by Living Sweet Moments
Baked Apples Healthy Energy Snack Bar by Splash of Flavours
Gluten-Free Muffins, Healthy Cookies and Bread
Making your own bread, muffins or cookies can be a great way to add some more variety and veggies/fruit/nuts and seeds into your child's diet. They can be pretty tasty too!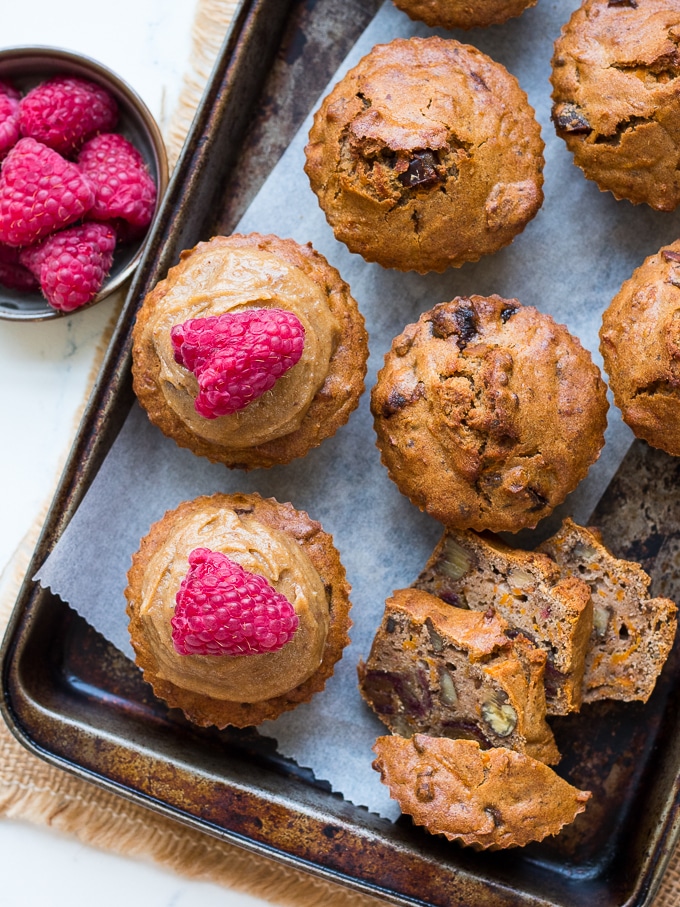 Buckwheat, Carrot, Date & Walnut Muffins (pictured) by Nourish Everyday
Favorite Chocolate Chip Banana Bread by Pass Me Some Tasty
Pumpkin Banana Muffins by Love Food Nourish
Blueberry Chocolate Chip Zucchini Muffins by Recipes to Nourish
Banana, Pear & Cinnamon Oat Bites for Kids (Allergy-Free) by Love Food Nourish
Blueberry Walnut Breakfast Cookies by The Organic Dietician
Paleo Flourless Chocolate Chip Cookies by Low Carb Yum
Banana and Feijoa Loaf by Love Food Nourish
Sweet Potato Blueberry Flourless Muffins by Athletic Avocado
Grain-Free Zucchini Banana Bread by Nourish Everyday
Veggie Egg Muffins with Pesto by Love Food Nourish
Healthy Vegan Cookie Dough by Yup it's Vegan
Fruit Snacks
I love these fun ideas for snacks using fruit! Fruit kebabs or kabobs as you call them in the U.S are always a hit at kids parties. I love the look of the ones pictured below by Raia's Recipes. Smoothie bowls are a favourite in my house and can be a great way to include greens in your child's diet. Its fun to make pretty patterns on the top and get your kids to help.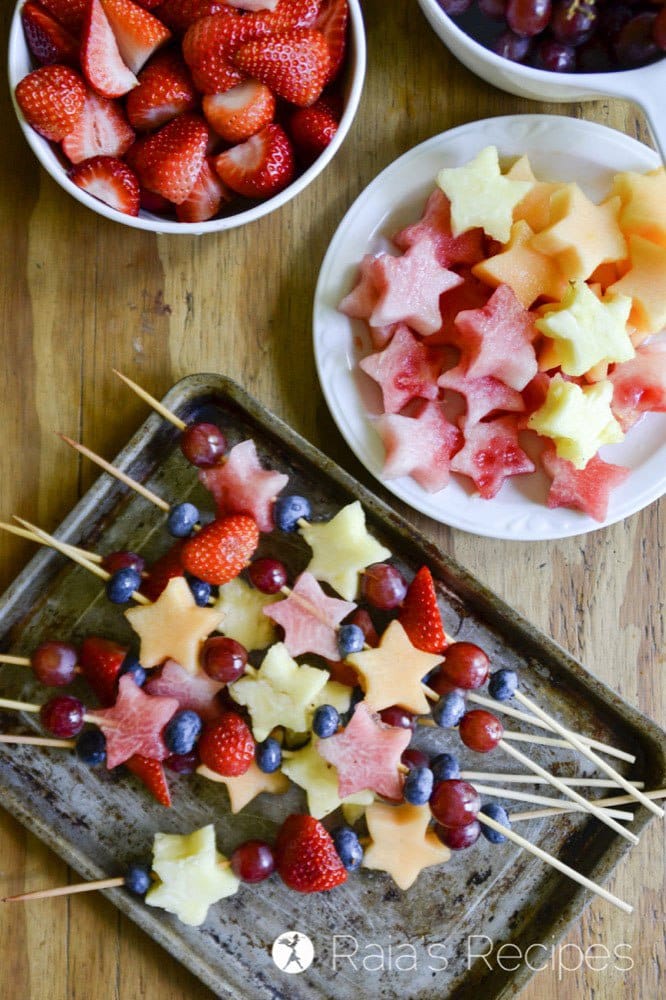 Kid-Friendly Fruit Kabobs (pictured) by Raia's Recipes
Green Smoothie Bowl by Foodbyjonisister
Homemade Crunchy Apple Chips by Living Sweet Moments
Peach Turmeric Smoothie Bowls by The Organic Kitchen
Homemade Strawberry Fruit Roll Ups by Living Sweet Moments
Homemade Orange Jello by Recipes to Nourish
Orange Fruit Pumpkins by Thrifty DIY Diva
Homemade Fruit Gummies with no added sugar (pictured below) by Love Food Nourish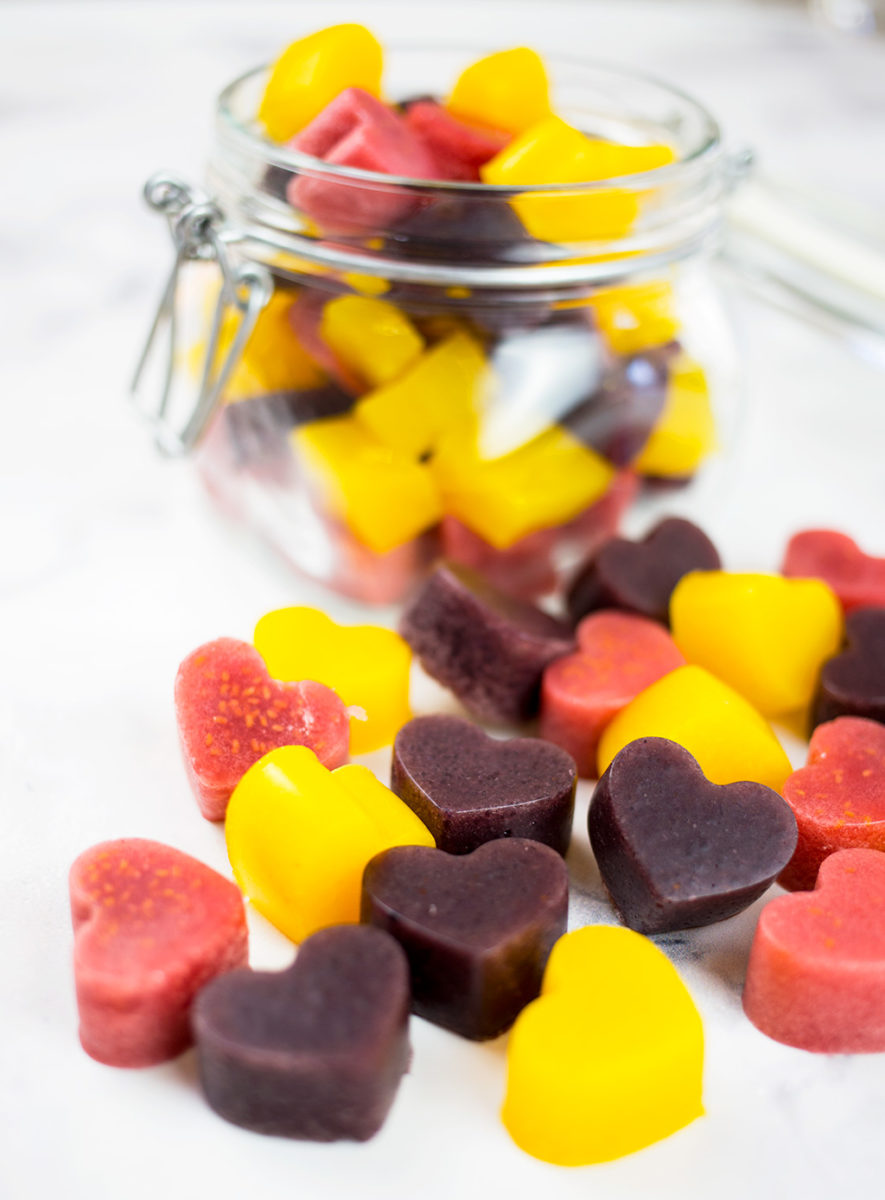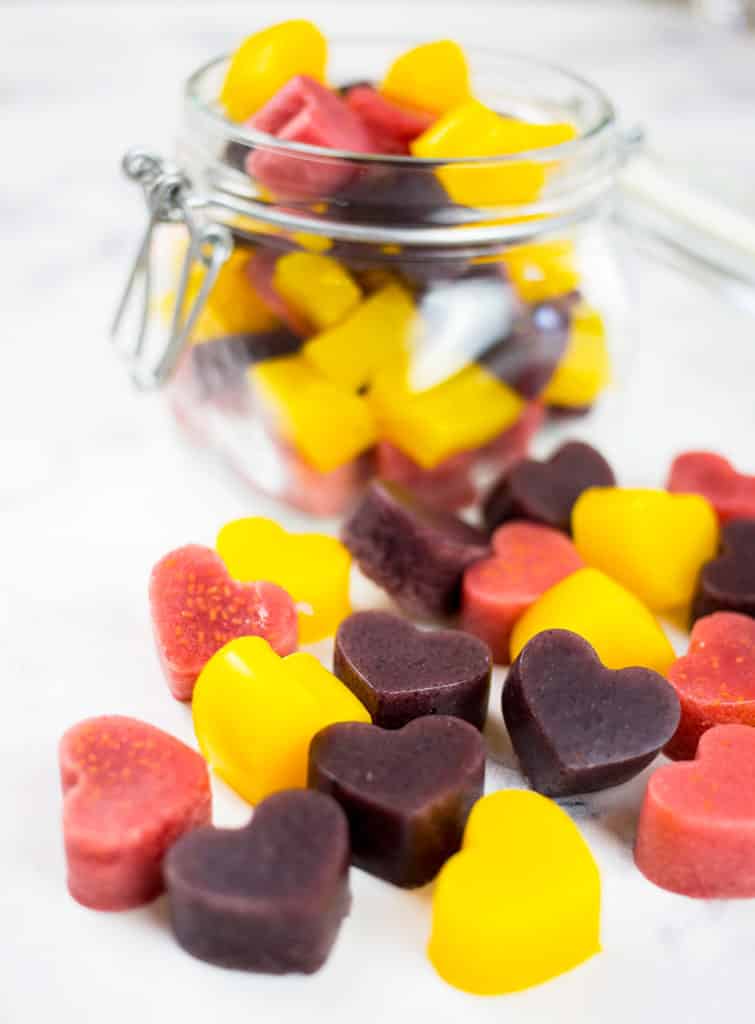 Veggie Snacks
I love these creative ways to get more veggies into your kids! Dips such as hummus or pesto are always a winner, kids love dipping food into dips! They also make a great alternative to using butter when using it as a spread. Get creative with your dips and use them to get some more variety and protein into your child's diet and get them snacking on some healthy veggies!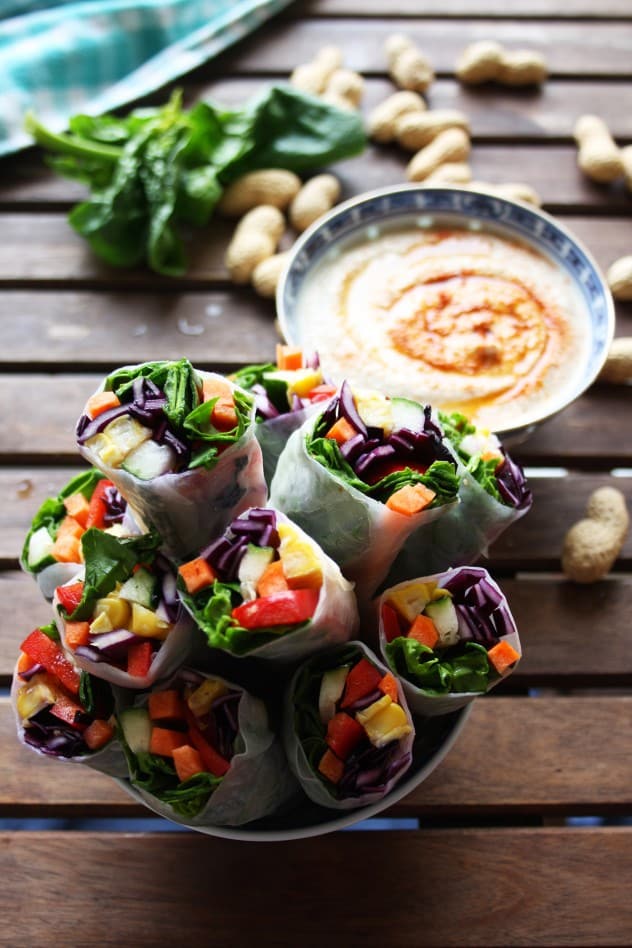 Vegan Spring Rolls with Peanut Sauce (picture) by Happy Kitchen Rocks
Roasted Butternut Squash & Turmeric Hummus by Love Food Nourish
Vegetable Loaded Sushi Donuts by Recipes From a Pantry
Turmeric Veggie Rice Balls by Love Food Nourish
Kale, Basil & Walnut Pesto by Love Food Nourish
Other healthy snack ideas:
Here are a few other healthy snack ideas to give you some other inspiration. Kids love variety so its a great idea to mix things up a bit to keep them interested in eating healthy foods.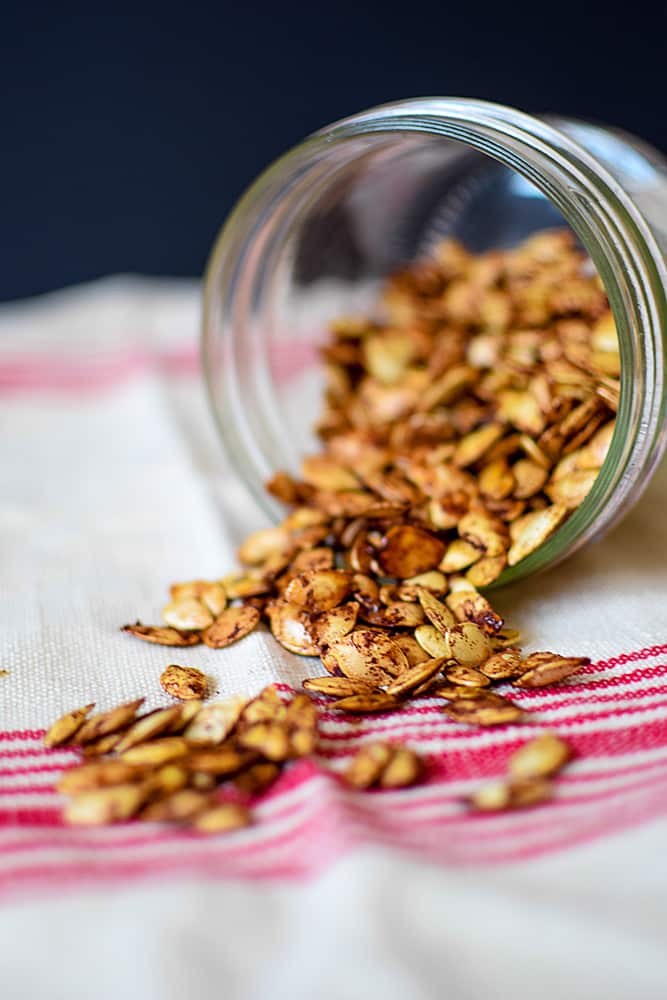 Roasted Sweet Pumpkin Seeds (pictured) by Made by Luci
Pumpkin Spice Roasted Chickpeas by Strength and Sunshine
Easy Instant Pot Coconut Yogurt by Allergy Free Alaska
Thank you to all the very talented food bloggers who contributed their recipes for this post.
I hope you enjoyed this list of healthy snacks for kids, let me know what you are going to try in the comments!
For more tasty recipes and to see what I've been getting up to you can follow me on Facebook, Instagram, Pinterest or Twitter.
Have a lovely week!
Hope
Save
Save
Save
Save
Save
Save
Save
Save
Save
Save
Save
Save
Save
Save
Save
Save
Save
Save
Save
Save
Save
Save
Save
Save
Save
Save
Save
Save
Save
Save
Save
Save
Save
Save
Save
Save
Save
Save
Save
Save
Save
Save
Save
Save
Save
Save
Save
Save
Save
Save
Save
Save
Save
Save
Save
Save
Save
Save
Save
Save
Save
Save
Save